Harris
October 25, 2010
The sign for Smallwood Assisted Living Home caught my attention in the distance, my heart fluttered eagerly as I jogged forward. I arrived to the automatic doors gasping for breath; I noticed that only a few cars were in the parking lot.
"Good afternoon, Jimmy!" I chirped brightly to immobilized Jimmy, who sat in his electronic chair outside. His long, wiry grey hair looked wild because of the gusty winds outside. He smiled toothlessly at me as I walked in. The receptionist, Judy, beamed as I strode inside.

"Right on schedule, he's in his room." She greeted me as I hastily signed in.

"Fantastic" I responded, placing the pen next to the clipboard. I strode through the recreation room, and a chorus of greetings assailed me from Doris, the lonely grandmother and army nurse; Eli, the war hero and bingo champion; Rosanna, who always waited for her late daughter to see her. I waved in response and snaked through the hallways until I saw room 118, I gently knocked on the door.

"Come in!" I heard my brother's warped voice call from behind the door. I pushed it open to see him. He sat in his electronic chair, his brown hair messy, his handsome face distorted and scarred, dressed in oversized clothes. "Julie!" he called his voice barely decipherable because of his new mental disabilities. He rode towards me with a smile on his face.

"Hey buddy, how was your day?" I inquired.

"Well the nurse told me…" Harris enunciated with noticeable difficulty, tripping over his words and struggling with vocabulary. A year ago, when my brother was driving to school alone, I was home sick that day, a car ran a stoplight and smashed into my brother's car at 80 mph and left him recovering from severe injuries. Apart from the broken bones and mangled body parts, he suffered a cerebral hemorrhage and was not expected to live.

He did live and left the hospital with scarring on the left side of his body and a damaged brain. His IQ dropped from genius to moderately retarded. He was confined to an electric chair because of his ruined motor skills and our parents put him in an assisted living home. "Now you're here!" he exclaimed. I tried to hold back tears as I remembered how amazing Harris used to be.

He was our parent's pride and joy, he was an excellent student that made the honor roll quarterly, he was the talented quarterback of the high school football team, and was a great person with many friends. We have always been best friends, but before the accident, I admittedly was jealous of him. I always wished I was as perfect as him, or something would happen that would make him less perfect.

That was my biggest regret, I had heard the phrase "be careful what you wish for", but never believed it could be true. I shuddered reflexively, remembering sobbing to my pastor, thinking at the time I was a murderer. He assured me I was not to blame, so I told my parents. Since their faces were stoic the entire time, I think they decided I was partly to blame.

"What do you want to do?" I managed to say without a waver in my voice.

"Color?" he asked after lengthy consideration. I nodded and he pulled out his two coloring books of cars and placed one in front of me. He grinned as we shared his crayons. We colored in silence. "Why are you sad?" he asked suddenly.

"I'm not sad Harris," I lied, taking a chunk of my hair and braiding it.

"I know you are." He blurted out, touching my arm brusquely. I knew because of his brain injuries he couldn't have a softer touch. The searing tears in my eyes threatened to fall.

"I'm happy Harris. I'm so happy because you are so great." I declared. "You are so loving, caring, and funny. You're the greatest brother anyone could ever have." Tears fell down my cheeks. As I reflected on what I had just admitted, I recognized it wasn't a lie.

"I love you Julie," Harris stuttered. He carefully put his hand by mine, which I had rested on the table.


"I loved you too, Harris." I replied.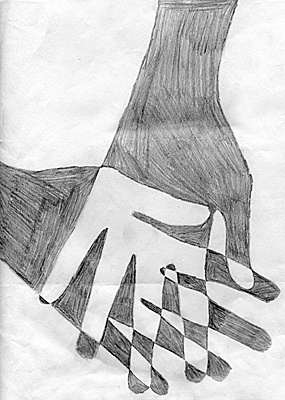 © Warlito B., Tamuning, GU