Lost in this World
October 21, 2010
Lost in this World

DEATH. To be honest, I have never really thought about death, I've never had a reason to. Now, I do. Do our spirits actually ascend into heaven like our Faith tells us, or is that just some old folktale that was changed into something totally different because it was passed from person to person like the child's game telephone? Truthfully, I don't know the correct answer.
* * *

I woke up this morning at 6:10 A.M., and dragged my lazy body into the shower, as usual. Once I finished washing my hair with my Herbal Essences Tousle Me Softly shampoo I wrapped a towel around my dripping figure and limped back into my bedroom. I combed my hair, and slipped on my woolen kilt. Then, I pulled my white blouse with red letter stitching over the left breast pocket around my head and then tried to smooth it out to get rid of some of the wrinkles. It was no use; I had found this particular shirt in the bottom of my pink hamper. I look at my digital clock lying upon my Hello Kitty nightstand: 6:50. As quickly as possible I pull my hair up on top of my head and secure it with a hair tie, and then grab my pink polka dotted backpack and dart out the door.

My favorite song came on the radio: "Lost in this world .I even get lost in the song. And when the lights go down, that is where I'll be found. Innocent and pure. Guess you heard it all before. One thing that remains the same, you're still a picture in a frame." I cruise down the highway going a full speed of ninety-five mph. I make it to school in a convenient twenty-five minutes. Once I arrive, I park in my usual spot next to my best friend, Abby. I yank the keys from the ignition, grab my backpack from the passenger seat, and slam the door brutally behind me.

I rush down the hall to my first period class-American History. I slide into the desk right beside Abby and pull out my textbook. Rinnnnggg!!!

"That was lucky," whispered Abby. This wasn't unusual. I am always late like this. Running into school gives me a kind of fuel or adrenaline to get through the school day. "I need to tell you something after class. It's really important," Abby whispered in a concerned voice.

"Okay. I have second off, you?" Abby and I always have second hour off so this question was irrelevant.

"Ya. I will meet you in the library after class." I hate American History. All Mr. Ryan does is lecture us about how we aren't listening to anything that he is saying, which is not entirely false. I can't help but to stare at his mustache. The way it curls up and around, I am surprised that it doesn't tickle his nose and make him sneeze occasionally. I keep glancing back and forth from the clock and Mr. Ryan's distorted face. This class seems to be lasting forever. I keep telling myself that this is only first hour. Riinnngggg!!! I grab my books, shove them in my backpack and sprint out of the classroom. I direct myself into the library and I grab our usual table before any other students can grab it. I search my backpack for my computer and once I locate it I drop it onto the table. One minute later Abby saunters into the room. She takes the seat directly across from me. She has a worried expression on her face, like she is trying to hide something. "What is wrong?" I question.

"Oh nothing," she replies. She is a really bad liar and I know that this statement is false. There is something about the expression on her face that she always wears when she is lying. She always looks down and pushes her lips to the side of her face; she always twiddles her fingers as well.

"Tell me what's wrong, and what was that thing that you had to tell me in history?" She signals me to come closer, she obviously doesn't want anyone to know what she is about to tell me, a secret perhaps.

"I uhhh…I ummm. I am sick," she says.

"Haaa. You scared me there for a second I thought that someone died or something. So what do you have the flu, cold, Mono?" I questioned, relieved.

"No. It is more serious than that. I have . . . skin cancer." My heart dropped. She can't have cancer she is my best friend; she is my only friend.

"What? Well ummm what is happening," I asked, concerned this time.

"Well I have stage IV Melanoma Cancer. It started with a mole on my back. Then it got larger and the edges were uneven. I didn't think anything of it, so I didn't tell anyone. When I noticed that the two halves were different I told my mom and we went to see a doctor. He told me what my condition was and that the survival rate is less than 50%. A few years ago I had surgery to remove the mole, chemotherapy, and radiation. The cancer has now spread into my brain and my bones. I am no longer responding to treatment. So, I decided to stop it and to have treatment to keep me out of pain, until my time comes. I have two weeks, maybe one. This was the hardest secret that I have ever had to keep but I didn't want to get you all worried if I was going to be okay, and now that I know that I'm not I wanted you to hear the news from me. I'm really sorry about…well about everything." I was speechless. I didn't know what to say. My best friend was going to die, how do I reply to that?

"This can't be happening. You are fine," I say. I wanted so badly to believe that.

"Sara, No I'm not. I am going to die and that's okay. You will make other friends. I just ask you one thing, don't ever forget me. I don't want to be forgotten or, lost," she said.

"Abby I will never forget you. You will always hold a special place in my heart." It was very difficult to get through the rest of the day knowing that my best friend might not wake up tomorrow. How can you live your life knowing that you only have one or two weeks left? In algebra 3 all I could think of was Abby. I couldn't concentrate at all. I debated whether or not to leave school and go home a few times. When the seventh hour bell rang I darted to my car and sped home going my usual ninety-five mph.

When I got home I dashed up stairs and slammed my door shut. I dropped my backpack in the middle of my room and fell on my bed, put my face in my pillow, and the tears just started pouring out in puddles. Reaching over to my bedside table, I turned on the radio so my mother wouldn't hear my cries and worry. I just wanted to be alone. The song on the radio was one that was familiar to me, "Lost" by Anouk. This immediately reminded of Abby: poor, innocent Abby. Why did this have to happen to me, to my friend? That's when I got the call.

I picked up my cell phone and it was Abby's mother. She told me that Abby collapsed at home and that she was being transferred to St. John's Hospital via Ambulance. I grabbed my purse and keys and rushed out the door, ignoring my mother's questions.

Abby was in the hospital for two weeks. I didn't ever want to leave her side but my mother forced me to attend school every day. I spent the evenings and the weekends there, in her hospital room hoping that we will all wake up one morning and she will be fine and everything will be back to normal. But Abby and I both know that that is not going to happen.

"Hey can you go get me some water from the cafeteria down stairs," asked Abby.

"Of course, I will be right back," I replied.
When I came back into the room there was a crowd of doctors surrounding Abby's bed. This is when I knew that she didn't send my away because she wanted water, but because she didn't want me to see her die.
* * *
After I was free to leave, I immediately sprinted to my car. My hands trembled as I turned the key in the ignition. As the car started the radio blared at maximum volume. On came Abby's song: "Lost in this world. I even get lost in this song. And when the lights go down, that is where I'll be found. Innocent and pure. Guess you heard it all before. One thing that remains the same, you're still a picture in a frame."


*This piece was inspired by a song called Lost by Anouk.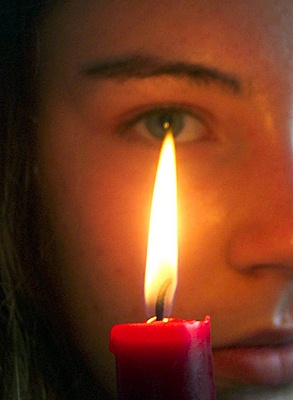 © Elise S., Clarksville, MD