elasticity
October 5, 2010
I am curled on my side, sheets pulled to just over my hipbones, concealing the edge of black boxers. I lay silent, awake in a city that never sleeps. It's not Seattle, or Tokyo, or anywhere important – but it's home. It's warm and there is enough life in this place to brush away the creep of grey on my skin, the lifeless tinge of blue on my lips.

Outside, it always looks the same. No difference between sunset and rise, just as there is no distinction between birth and death. We come into this world alone and we leave it alone.

No matter – I was talking about the sun. It's rising, smog on the cityscape, a shrouding mist like the city's scrounging for a mask to conceal itself. I can see it from my bed, the barest slip of light creeping between the skyscrapers, just a glimmer of gold on the horizon, and even that is soiled. I think of that quote, Nothing gold can stay, and I remember to hate him.

I let him in every time. Let him charm me out of common wit and sense with too much wine (good wine) and too little consideration. Every time I let him in, push aside my job for the sake of another night that I'll eventually come to black book – a burn notice on my own life.

He's left his watch on the table – and taken mine. In a fit of petty anger, I consider crushing it, but I won't. I regret it, and I regret him, but at the same moment there is nothing left in me but an empty sort of ecstasy, a loneliness that leaves a craving in its wake. I hate him/I would not be who I am without him.

We're two sides of the same coin, driven and focused and striving, and our only difference, his tails to my head, is in the way we choose to change the world.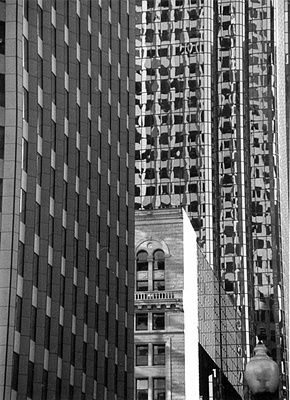 © Natalie D., Marblehead, MA