The New Kid
October 7, 2010
At school at Phoenix High School there are tons of kids but I was the only one who spotted the new one at exactly 9:30. She wore no make-up but probably looked prettier without it. She decides to come to school in April, she is very dark with a bright name, Isabella Santiago. My name is the complete opposite, Claire, a bright name for a bright girl. I don't like it.
I plant to talk to her at least say hi. Okay I'm walking. "Hi I'm Claire. It's nice to meet you, Isabella." She just glanced at me, "How do you know my name and what do you want?" Wow, harsh. "Everyone knows and I just want to be nice." Right now I just sound like a weirdo and she's mad-dogging me. "Well don't be." She closed the book she was reading and walked away. Oh well, I'll just have to talk to her tomorrow.
Okay, I admit it I'm a little scared to talk to her today. Last night after school I lied down in my bed and thought of what I was getting myself into, and I began to fear she might rip my head off. I'm going to try and be the bigger person, though. I spot her at the end of the hall reading that book again.
So I walk up to her and say………………….. "Hia, remember me?" She looks up and says, "Sadly. Now what do you want? I have to finish this book on how to kill someone." I made a huge gulp and said the first thing that came to my mind, "I didn't know you were into this kind of stuff." Yes, I did. She smiled at me, which I didn't think would happen, and said, "Hey, maybe I can use what I learned from this book on you." Backfire. I shrieked. Again said what came to mind, "Hey haven't you ever heard of that song, why can't we be friends? Why can't we be friends?" Ugh, I'm such an idiot. She unexpectedly replied, "Hey have you ever heard of the song why won't you go away? Why won't you go away?" Now what happens next is expected, she walked away leaving me speechless.
I have it all planned out on how I will talk to her today. I'm going to invite her to some guy Zeke's party on Saturday. I see her again sitting at the same bench reading the same book. "Hello again. There is this cool party at some guy Zeke's house tomorrow at 8:00. Want to come?" She walked away as expected.Oh well, I'm going.
It's the day of the party and I'm getting ready, I decided to go "fashionably" late, when I heard knocking at my window. Oh my gosh, it was Isabella! She was all beaten up! I opened the window and told her to be quiet because my parents were in the living room. "So what happened" You look all um………………….beaten up." I couldn't tell whether she was glancing or frowning at me. "No, duh. I went to that dumb party and well automatic beat down because I'm the new kid."
That's not good. "Oh sorry. How about I make it up to you? We can go to Starbucks." She kind of smiled and went out the window so I can go out without being questioned of who she was. When I walked out the door we both got in my car. We got out of the car when we got there she went to find a table and I went in line.
When I turned around Isabella was gone it was crowded and I couldn't see her. All I saw was a crowd of people. It is not good to go to Starbucks on a Saturday night. My first idea was to yell something crazy so everyone would get out. "Everybody get out. There is a kidnapper on the loose!" Everyone stormed out even the cashier left, but nobody with Isabella. I guess Isabella knew I was still there because I heard her say, "Help! Claire! Help!" I had to react but I guess these next words wasn't really thought through, "I'm coming Isabella!" That was a bad idea because somebody hit me on the back of the head with a chair but I managed to trip him and knock him unconscious. I got up and yelled at him, "What now!" I ran to where I heard Isabella which was the kitchen. I saw a man standing over Isabella saying, "You deserve to die just as your parents did." I turned him around and knocked him unconscious and said, "No she doesn't! Neither did her parents!" I figured her parents were dead when he said "did".
I called the cops immediately, they arrested the guys, and put me and Isabella in the ambulance car and we took off to the hospital.
When we got there the doctors said I was fine but Isabella needed rest. I stood at her bedside and was still there when she awoke. She looked at me all broken but improving in her health and said, "Claire, Those guys……………. back………. at Starbucks………………killed my parents" I already knew that but I wanted to know why. "I know but why?" She was breathing heavily, "We were………in a…….. Car accident………….they were………….the other……….car. They hurt me………….and cut my head……… So my parents…………….sued them…………….and they came……………..back to……………..kill them…….." We were both silent but she interrupted and said, "You kicked their butts." We were almost out of breath and our sides were hurting because we were laughing too hard.
That was two years ago. Isabella has recovered and we've become best friends ever since. Did I ever wonder how she knew where I lived, or how the man hurt her, no I just don't bring it up it was the day we became best friends and the worst memory ever. I guess everything is good…………………. for now.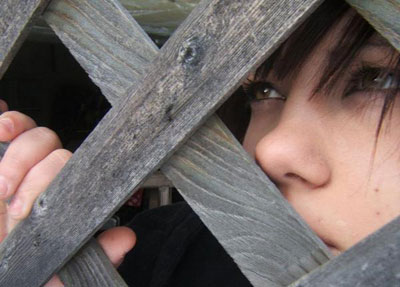 © Krystal B., Bloomingdale , IL