The Birthday Gift
September 4, 2010
Dear Diary,
I can't believe it has already been a year. I sit on the bench, the one right next to her favorite lake. This is where we spent our last moments together…
"Here's your sandwich, mom. Um… It was in the backseat of the car, not the front seat. It looks really good, though."
"No thanks, dear. I… don't feel to good. I have this weight on my chest… and this pain in my… I think I'm having a heart attack. Ricky, call an ambulance. I'm not kidding… I… just"
"Holy s***, mom, holy s***. My phone is dead, mom. Oh my god… oh my god… come here, I will carry you to the car… oh my god… oh my god…"

"Ricky! Ricky! Snap out of it!" I hear my brother's voice. He has a whiney voice, like a little kid.


"Dave! For Christ's sake, lay off of me!" I punched Dave in the arm. "You scared the crap out of me! I am not feeling so swell either… just let me rest my eyes…" Dave mumbled something else as I fell back into a trance.

"How do I put it into drive? What the hell, mom I am so confused!"
"Honey… the gear… stick… forward two…"
"Ok, mom… where is the hospital? I can't drive mom! I'm just a kid! Mom! I can't…" Ricky started crying. He was only thirteen, and had no clue how to drive. His mom was dying by him, and he couldn't help her. He fell into the seat next to hers, and hugged her. He was bawling his eyes out "Mommy! I love you mommy! I am so sorry!"



"Ricky! Stop this bulls***! You're scaring me!" Dave was fifteen when mom died, and he just turned sixteen last month. He never acted his age.

"Dave, just leave me alone! You may have gotten over mom dying, but I haven't!" I started crying, and I leaned on Dave's shoulder. He was always there to support me. Even when he was being a jerk.
Ricky held his mom in his arms for what seemed like forever. He knew when the last of her life had been sucked out of her, but all he could do was cry. He was so sad, he felt like his life had been taken away when his mother wasn't there for him any more. After about an hour, he found someone in the parking lot by the lake, and they called an ambulance. They tried to revive her, but she didn't even twitch. She was dead.
I wake up where I am sitting now, on this bench all alone. I don't know where Dave went, but I'm sure he will be back. Or maybe not.

I look over to where Dave was sitting, and he left me a brown paper bag. I opened it, and there was a sandwich. A Sandwich from Jimmy John's. A #17, The Ultimate Porker, mom's favorite. And a birthday card. Oh, I forgot to mention, today is my fourteenth birthday. It is also my mother's death anniversary. As I bite into the sandwich, there are tears rolling down my cheeks.

I really did love my mother.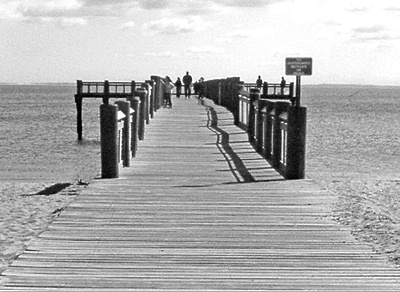 © Kevin F., Milford, CT