An Okay Thing
August 9, 2010
My mom threw me into the car and slammed the door of the BMW as parents, dancers, and random passersby stared at me in awe through the tinted windows. I was thrown into the car, not because I had done anything wrong, but to prevent patronizing the Miami City Ballet any further. Without a word to the speechless crowd, my mom jumped into the driver's seat and sent the car feeling forward in fifteen seconds FLAT. Realizing my inappropriate footwear, I reached down, untied my pointe shoes, and wrapped the pink, silk ribbons around the box of the shoe before throwing those torture chambers onto an unorganized pile of clothes. These days, my mom and I practically lived in the car. Almost every weekend, she'd take me from audition to audition hoping that I'd be picked up by some major dance troupe—it hadn't happened yet, and after this latest fiasco, I doubted it would happen anytime soon.

"I don't understand it! You were twice as good as those other girls, and yet you didn't make the second cut?!" My mom ranted. "Your fouettés were cleaner than everyone else's and your adagio combo was far more graceful than that skinny girl's next to you. How did she make it?! I mean, what did those other girls have that you didn't?"

Eating disorders, I thought to myself. I pulled my legs up to my chest and began massaging my raw feet. I was pretty knowledgeable about dance related injuries by now after having had quite a few in the past; this time, I was sure I had twisted my ankle at the Jacksonville auditions last weekend. Fouettés had never been my strong point, although said otherwise by my mother. If you asked any random stranger off the street if they wanted to do eight, quick, sharp turns on one foot while remembering to point your toes and straighten your legs, I'm pretty sure that they would either decline or embarrass themselves miserably. Dance was an okay thing to me—a hobby—but to my mom, it was worshipped. She knew all the ballet terms religiously and was even able to acquire a French accent combined with the Russian work ethic, "You don't feel pain." In this case, I felt the pain, and this time, it was worse than ever. I had misplaced my foot on a piqué and a shocking pain echoed every time I took a step. My mom thought I was the best one out there, but did she see me collapse into a chair on the wings of the stage on the first break?

Dance was an okay thing for me, but for a while now, I had been wanting a life—a life life—the kind of life where you were recognized by name rather than a number…the kind of life where you had a nice, comfy, messy bedroom to come to after a hard day's work, not a hotel room. I wanted the normal mom who would ask about school rather than demand to know what went wrong during the last audition. I wanted my step dad to put his foot down about mom and I being away so often, and I wished that those occasional holidays that I did see my real father, I wished he wouldn't greet me with "So where is that stupid ballet program taking you two now?" I wanted a life with a normal family…normal friends that weren't paranoid about you beating them in an audition…maybe even a boyfriend, but rather, I had a career. This was no life for someone who had so much left.

Dance was an okay thing for me, but I didn't share the same drive as all the other dancers. I never felt the need to boast that I wore Gaynor Minden pointe shoes (the most expensive pointe shoes sold). I never wanted to wear the gaudiest stage makeup in the corps de ballet, and I never threw a tantrum when I wasn't cast as the lead. Now as I listened to my mom rant on about how I needed to improve for the next audition in Tallahassee, I realized that all I had ever wanted was my mom's approval…but apparently, I wouldn't be getting that today.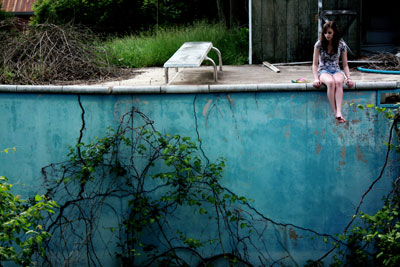 © Myra K.