Parentnapped! -Chapter 1. The Room of Hostility
July 7, 2010
A ghastly chill stormed around the parlor. So did an awkward silence. I shivered. Goosebumps rose on my arms like unknowable codes of Braille. Everything was dead quiet, until she broke the ice.

"So… Where shall we go this weekend? You know, like for a 'family bonding time'?" She simpered. "Anywhere in mind?"

For the millionth time I thought, 'You are not family.'

"I'd like to just stay home, Louise. I don't wa- Er, I have a lot of homework to do."

A lot of homework was just a mere lie, of course.

"Oh, but Velma dearie…" Louise batted her fake eyelashes and pouted. "Family is more important than homework or grades, don't you think so too?" And it'll be a nice time for us to connect with each other… Hmm?"

She got my name wrong after countless attempts of correction.

"Yes, but-"

"I do insist on it, dear."

"But-"

I was interrupted again, by my father. The man with the gray-brown goatee and stern face.

"Let's not make a big fuss about it, Velva. You can always do your homework after the trip, right?" He stroked his beloved goatee.

There was no arguing against my father. Failure would always be the ultimate result. What good would it be trying to argue against a lawyer?

"I guess so." I mumbled, trying to look somewhere other than the disturbing chin. The stiff back of the chair pushed my back straight very uncomfortably.

Then there was stillness again. It penetrated through my spine and made me shudder. I got out of the seat, straining to not make it drag noisily on the floor.

"Yes, I presume you should be going off to bed." My father commented with a dull tone.

I sighed in relief of escaping the room of hostility. Having to see my father's girlfriend, or whatever she must be, and her failure of a nose job was enough for one sitting. The rope ladder to my attic dangled down, inviting me in. I climbed my way up and flung down on the bed, pulling the covers over my head.

"Stupid Louise… Stupid nose job… Stupid… Stupid… Stupid…"

I murmured over and over again, in a trance, until I put myself to sleep.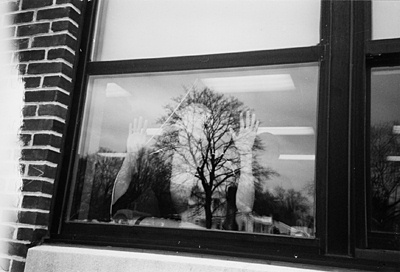 © Kaleigh W., Pompton Plains, NJ