The other half.
June 22, 2010
"Truth is used by the weakest of them all," she said.
Ofcourse, I believed her. The choice which arises, regarding believing someone, only does, when you have options.
She pulled out her hand and embraced me as the world's realities encircled my innocent mind. She smiled, always hopeful, that things would be fine.
How could I not believe her when she said lying was for the weak?Ofcourse I did. Until, she conveniently left this world, categorizing herself amongst the weak, and leaving me in a dilemma. Something happened then, helping me acknowledge, her memory and my discovery. Something which was not awaited, no, and utterly shocking, but, if I could use only one word to describe it, it would definitely be, miraculous.

The hustle bustle of the city welcomed me. This should have probably alarmed me, I was the new girl in the city, with just one piece of paper which would probably lead me to my destination…or not. Although this should have been scary, it wasn't. The fact that everything was real, was more appealing now. Throughout the journey on the plane, numbness had gripped me, and grasped me tightly into its hold. I couldn't feel anything, or thing at all. I just knew that I was on a journey. Where, when, how, I did not know, and at that time, it did not really matter.
I was here now, and there was no turning back. I had to face it. Face the music I had nothing to do with.
Yet I could not blame her. Every time I made futile attempts to do so, all the resentment disappeared into the warmth of love I felt for her, the times I had spent with her. All that I was left with, was incomprehensible agony.
I spotted a cab driver, who thankfully understood English, to an extent that he could nod or respond precisely. He took me to my destination, and unsure of what to pay him, I just paid him with the first change I could find.

My legs turned to lead. I looked around the building. It was huge. The person standing at the gate had pointed me in the right direction, yet I dreaded each and every moment that I had anticipated. How do you ever greet and embrace your other half you have been separated from your whole life? Believing that it was you and your mother, and dramatically drawing the fairy tale velvet robes, declaring that your lives were perfect and you were content? Until destiny spat on your face. Making you realize, that there is never a happily ever after, because happiness never ever stays long enough to make anyone believe it that it might just be the happy ending.
It always has to leave, always.
I walked towards the right, heading to the first block. It had three apartments and I had to go on the second floor.
Reliving in my mind, each memory, and comprehending how much each step, each word that came out of my mouth as an explanation, every blink of the eye would hurt, I loathed that moment of my life. My heartbeat became faster and faster and for a fraction of a second, I thought I just might not be able to make it.
Then, it played in my mind. My heart bled as I saw her face appear out of nowhere. A silent tear trickled out of my eye as I remembered her last words, "I know I can count on you. You are my brave daughter."
She had hope in me, she trusted me, and I could not let her down. She had meant the world to me, and she still did.
Once again the numbness had started gripping me, seizing control of my body. Reluctantly, I forced my cold hands on the door bell as the very sound of it scared me to pieces.
He opened the door. My first impression of him was unexplainable. He has light green eyes and black hair. His face, actually looked a lot cleaner as compared to the rest of his body or clothes. "Yes?" He asked, his voice slightly blur – that was explained by the beer tightly clutched into his hand – yet monotonous. Thankfully, he spoke English.
"Hey, umm I am … " I stammered. Oh, they were coming. Tears. Since the past six months, God knows where my heart which really was trying to be strong had concealed them. They were coming now, what a wonderful timing.
"You wana come in?" he asked, a grin on his face.
"I'm your sister."
After that, everything disappeared into blackness. I could not see anything. A few distant voices were heard, so I was assured that I might just be alive.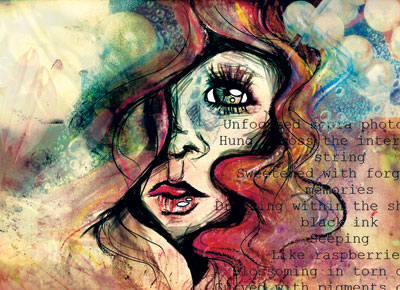 © Victor K., Las Vegas, NV