Merely Wishing
June 6, 2010
Sitting watching the stars merely shimmer through my window is my favorite thing to do. They seem so close but yet they are so far away. Just like you. I lean closer as if it helps my view. I sigh and spin around once in my chair. Why can't you be here? I think to myself. Like my room my life seems so empty without you. I look back out my window, another dark starry night. I smile. A light shoots by and I gasp and shut my eyes hard. As if it seals the wish.

"I wish he were here." I say with the most sincerity I can muster. It's true. His shaggy brown hair and half smile. I hug my legs to my chest. The wind blows my curtains and sends a chill down my spine. I back up and prop my feet on the window's edge. I have another cold chill and it makes me think of my best friend. I laugh quietly to myself and hear a familiar laugh faintly behind me. There is no way.

"Must be my imagination." I mutter to myself wishing so bad it wasn't true. I wish he was here, obnoxious or not. I would want him with me. A warm face presses against my neck and a laugh shakes my shoulder. I hold my breathe to keep from screaming. Something nags at me to relax. Could it have happened?

"Then you have a great imagination." His warm breath blows in my ear. I gulp and notice how hard my heart is pounding now. I tell myself to just turn around and look at him. I just can't bring myself to do it. The warm face pulls back and I sigh. Another chuckle. My chair starts rolling backwards and I close my eyes. The chair spins.

"Open your eyes." His voice coaxes and I obey unwillingly. I peer through my eyelashes and there his face is. A smile egging me on. I blush and shake my head. How? "I drove here, you dummy." he says reading my mind. His milky brown eyes hide in the dark but I still see the shine in them. Suddenly I can't help myself. I launch out of the chair and attack him with a hug. He smells so good. A scent that lures me into safety.

"I missed you…" I say trailing off into his chest. Another laugh rumbles through and makes my head bob. I laugh as well. He kisses the top of my head making my face set fire.

"I missed you as well…" he murmurs in my hair.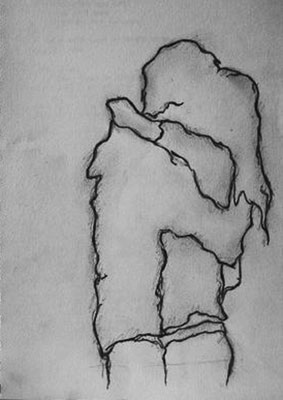 © Nicole B., Newcastle, WA