The Same Way
May 29, 2010
It's almost over, it's almost here, and yet, it's seems so hard to get to. It's the last class of
the day. But today, is the last day of school. The teacher has worked us hard all year, so for one
day, the last day, we can sit here and talk amongst ourselves. I'm in middle school, 8th grade, which means I'm graduating next year, and going to high school. My best friend Erica and I are sitting in the back of the room, away from everyone else. Her face is as smooth as a pebble, her radiant happiness is a bright light bulb, the fact that we won't be together next year is a bomb.
Erica is going to vocational school, while I'm going to public school. We realize this
will be the last time we will be in class together. The last fifty minute chunk of time in school
where we will be able to sit side by side, facing each other, going through every motion, the last
time we will be in class, together.
"So I guess this is it," Erica states, with a lump of gloom in her eyes. I don't know what
to say, I just nod my head. Her hair drops way past her shoulders, her eyes stare only into mine.
"Well, you could say that, but there will always be weekends, every week';' I didn't want
to face the fact we will barely see each other after today.
"I guess. Summer is gonna be so much fun! Oh man, why can't this just be over, it's
absolutely pointless," she exclaimed with that radiant smile. I looked deep into her eyes; we both
knew we didn't want this to end.
"Well, there are no points in this room" I tried to make a good joke, but it failed
miserably. She stared at me, and we just started cracking up. I didn't want to stop laughing. Her
laughter made everything else disappear, all problems just evaporate forever. We now had thirty
minutes left, the last thirty minutes with each other's company. Yes we might see each other on
weekends, but it's not the same. Erica always made working fun and easy. We would always
stare at each other, laugh, and then when the teacher walked by, we would quickly look back at
our books and work.
That's when I realized that she was still going to be there. I realized too that high school
will bring even more into my life. I will be forced to make new friends. We never went out, and I
didn't want to, but she was my best friend, and I was her best friend. I was a boy, and she was a
girl. This will be the past, and next will come the future.
As our laughter died down, everything felt better.
"Was that a joke," Erica sarcastically asked.
"Well it wasn't an opinion," I answered back, anything to keep us smiling.
"Okay, well you're goanna have to work on that for when we get together." Then it hit
me a like a brick, but it was a good brick, so I guess more like a pillow. We would still be able to
see each other, just not in the same way. We could laugh, and then stop when someone walked
by. We could just sit there, with something else to do; it just wouldn't be in school. The future
will be different, but no one said it had to be bad.

The school bell rang which ended our school days together. As I walked out of the
classroom, speechless next to Erica, she started walking off in a different direction. Without
saying anything. That 's it that's how she 's going to leave me. After a few moments, someone started tapping me on the shoulder. I couldn't imagine who it could be. Erica was already off with her other friends,
and my other friends were on the other side of the school. It didn't stop, so I turned around, and
there was Erica, standing there, with tears all in her eyes. She tried to talk, but she couldn't.
"Um, when you tap me on the shoulder, you might want to say something." At that, Erica
just started crying and laughing. "And that doesn't work as words either." I used all my strength
to not get teary eyed. She stopped. She looked at me. Then she hugged me. It wasn't love. It
wasn't romance. It was change. We weren't laughing classmates anymore. We weren't working
on the same assignment anymore. We weren't eating at the sam,e cafeteria anymore.
At this point, it was two best friends, crying in each other's arms. Why does it have to
end? Why can't the fact that you aren't going to the same school as your best friend be easy?
Why can't change be easy? I stared into her eyes. I didn't want to kiss her, but I didn't want to
leave her. I didn't want to walk off to my locker, and I didn't want her to go to hers.
Finally, a teacher told us to hurry up. We let go. I looked around. All I could see was me
and her walking down the halls together, day after day, for the last three years. Best friends
should always go to the same school; they should always be in the same class. But best friends
rarely did. They always changed how they would be together; they always changed the way they
would stay connected. For the rest of my life, Erica and I would have to change how we stayed
together.
"Greg, I just want you to know, I don't love you like a boyfriend, but I love you."
"Erica, I love you to, you will be in my heart every day." I knew it wasn't the romantic
love you read about in the love section of the magazines, or those relationship stories that are
used to make you realize who you love. This love is about the fact that change will never break
two best friends apart. I will date and marry someone, and so will Erica. And we'll have to
change how we stay together again. But the fact is, the future doesn't mean the past is gone.
You will always have the past.
Just not in the same way.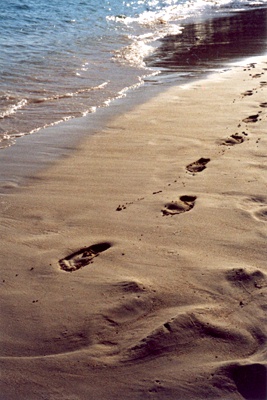 © Ashley B., Potomac, MD