Ray Charles Interview
May 20, 2010
RR> Ray Charles Robinson
I> Myself the Interviewer


I: Thanks for this extrodinary opportunity Mr. Ray Charles Robinson

R: My pleasure and you can just call me Ray.

I: Nice. I'll try to remember that. So what type of genres did you typically contrast with?

R: My line of music is a mix of country, pop, blues, jazz, and "soul".

I: Awesome. Now may I ask you, "What inspired you to get in this whole music thing Mr. Ray?

R: Well, uhh, it goes way back to when I was like three years old. As a young child I didn't have much. I was born in Albany, Georgia. A few months after that my family relocated to this little town

in Northern Florida. I say it was only about thirty or forty miles from the Georgia border. It's originally called "Greenville" if you're looking at it on the map but, we always pronounced it "Greensville." This little town became home for me. This town was very much like Georgia right in the same part of the country and the same type of rural village we were some really poor folks. Every Sunday I walked up to church in tha morning with ma and my little brother to get sum food b4 service started. I never seen how bad we were really struggling growing up as a boy. Momma taught me to never let anything get me down. Even with all my major accomplishments while being handicapped, I learned one thing, "no ones invincible." If you looked at "my family" then at "other black folks in Greensville" we were way at the bottom of the ladder lookin up at everybody else. We were never really set in a permanent home. It was often that we were finding a shack to spend the night, in the neighborhood. We always seemed to manage though. Any time we needed a place to stay we were always welcome to stay in the Red Wing Café for a note. My biggest fan was "Mr. Wylie Pitman." I always used to call him Mr. Pit. He lived only down the street and he was an amazing piano player. He was also the owner of Red Wing Café. I remember one time when he started playing a few notes; I made my way up to the piano and just stared. I was fascinated with the different sounds of a piano. Usually I would have been pushed away somewhere but, Mr. Pit let me hang around. I think he took me as a son in some ways. He picked me up and sat me on the stool right on his lap and let me run my fingers down the chords. Almost anytime I heard him stormin up a little of that boogie woogie I would immediately stop what I was doing and run over to his spot. He always would let me play. 'That's it, sonny! That's it." He'd scream, encouraging me. I was willing to give up my playing time for the the piano, that I loved music as much as he did. Me and Mama used to go to church. That's how I got my first music. I especially loved the church's music. I especially loved the church's singing.

I: That was rather straight forward Mr. Ray.

R: Well, that's just the type of person I am.

I: Yes, you are "where exactly are you from sir?"

R: Born in Albany and moved to Greenville. You don't listen "Boy!"

I: "Hi, there" 6 o'clock news and this has been my interview with Mr. Ray Charles Robinson.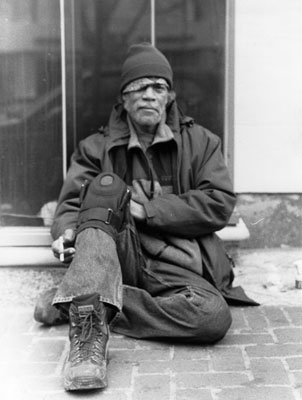 © Marie D., McLean, VA