The Rise and Fall of Maeryn Lucine Perkins
May 11, 2010
Many recall the first day of 8th grade as a happy one. Seeing old friends, friends they have known since their diaper days at Rockhill Daycare. A day of smiles, a day of laughs and excited faces, eyes flitting up and down, taking in the new tans and lighter hair of their classmates. Shocking as always, but never unexpected. The dazzling tales of ever more expensive hotels stayed in, the bigger and more outrageous scandals, and a summer so thrilling and so wondrous it surely dwarfed yours to merely a day at Grandma's. Or so you were made to think with a little bit of truth stretching. But one little shape in the bustling crowd of luxury brands and perfect teeth, of superb bodies and beautiful faces wore an expression upon her strangely average face not of excitement but of horror. One who had been misled, falsely assured that everything would go perfectly. A girl dressed in a simple off-brand yellow Polo style shirt and a pair of jeans embroidered with a glittering purple butterfly. If you were an ant wandering terrified in the halls of this prestigious girls' school, the angry stomping soles in danger of squashing you would bear names like "Coach", "Steve Madden", or at the very least "Rocket Dog" or "American Eagle". But one unusual pair of shoes holding a foot with un-manicured and therefore socially unacceptable feet bore a truly alien brand name; "Converse". Were you a fashionably educated ant, you would be appalled and surprised, confused, baffled by the addition of this new name to your very limited ant vocabulary. It was a name no floor at Rockhill Prep had ever had stamped upon its waxed, gleaming surface. It was a brand upon the foot of a girl who would change that school forever.

___________


Maeryn gently raised her heavy, sleepy head from her pillow. Eyes closed, she pounded randomly for the alarm button. Instantly, the blaring quieted and she opened a pair of sleepy blue eyes to the world. Still blind. She groped for her black rimmed spectacles and glanced at the ancient alarm clock perched on the rickety crate that served as her side table. Seven fifteen. Sighing, Maeryn removed her glasses and laid her head quietly back on her rumpled pillow, begging for more sleep.
"MAEYRN!" Sang a voice from the hallway. Maeryn flinched at the reminder of the name she hated so intensely. Her mother threw open the door and clapped her hands to silent music, a big sweatshirt covering her down to her knees from where a thin pair of pajama pants peeked.
"Muhhhhh!" Maeryn moaned as her mother flipped on her blaring naked light bulb which hung from a wire attached to the water stained ceiling.
"Up, honey! It's the first day of November! It's 7th grade, you're almost done with middle school!" Mom said much too loudly for seven in the morning.
"Nooooo…" said a mound of crumpled, thin blankets on the bed. Maeryn's mom threw the blankets off of her daughter and furrowed her eyebrows.
"Up, young lady. Have a good attitude. Be thankful you even can go to school. Kids in Africa would kill to be you."
"Mom, I could never pull off that dark a complexion anyway." Maeryn said, tossing her long blonde hair and smiling jokingly. She placed her feet on to the uncarpeted floor and rose, grabbing a roughly sewn robe from the hook by her bed, one of her first major projects. Her mother smiled and kissed her on the forehead.
"Get dressed, drama queen." Mom said, trotting to the door and shutting it firmly behind her. The broken glass and bottle cap chains which covered the thin plank of wood rattled softly in protest. With a quick glance to assure herself that her mother was gone, Maeryn took a seat at her hand-me-down vanity which was covered with half empty bottles of CVS brand moisturizers, cleansers, and knock off perfumes which she had mixed together to form a scent close to that of the real Juicy Couture brand. In the center of the menagerie of products sat the crowning jewels, two tiny sample bottles, one of Juicy Couture Couture which she used to model her knock-off and another tiny, curvy bottle of Prada sample. This was strictly for the most special of occasions as she had no similar scent to it. She gently took the Prada sample into her hand and cradled it like a new born baby. With a kiss she set it back down and took a many times repaired hair brush from the splintering vanity top. She pulled it through her voluminous blonde hair which shimmered in the artificial light. Maeryn finished her brushing and checked her appearance in the mirror which was tipped precariously against the ruined wallpaper that covered the walls of her room. Satisfied, she reached for a tube of mascara and shook it to cover the brush encased inside. Maeryn took off her thick lenses, smoothed several layers over her already thick lashes and batted her eyes at herself. She was just reaching for a bottle of lip gloss when there was a quiet tap at the door. Her glasses flew back to her face.
"Liv, I'm going to work. Dad left about two hours ago and won't be back 'til late. Don't miss the bus!" Mom said. Maeryn could hear her snapping the buttons of her second hand suit together.
"Love you, Mom." Maeryn mumbled, distracted.
"Love you too." Mom could be heard saying as she shut the door.
Maeryn sat still for a moment, waiting to see if her mother would return for something she had left. Sure she had left, Maeryn flew to her pile of bins that served as a dresser and lifted all but the bottom one off. With a click, she lifted the lid off of the opaque bin to reveal an array of needles, threads, sweaters, t-shirts, and pants folded tightly and filled nearly to over flowing. She dug for a moment and pulled a soft, rosebud sweater from the pile and a pair of brown corduroy pants. A needle dangled from the left side of the sweater where a little shape had begun to be embroidered in brown as a tiny printed photo fell from inside, a silhouette of a begging dog. Quick as lightning, she snatched the photo and every sewing lesson her mother had ever given her flew into her mind as her needle darted effortlessly through the thick weave of the fabric. Soon, a tiny dog had formed, nearly identical to the one shown in the crumpled photo. Maeryn clipped the thread and held out the sweater, her newest prize. She gathered it into her arms and snatched the pair of pants from the floor. Smiling, she threw off her PJs and pulled on her newly finished sweater and the pair of corduroys then turned to the mirror, admiring her appearance. She then ran to the dresser and pulled out a tiny pink bow and tucked in artfully into her thick blonde waves. Then came a layer of concealer and powder much lighter then her own skin to cover her summer freckles and a dash of blush to each apple of her falsely pale cheeks to form a façade of naturally flawless skin. Finally, she turned to the little bottle of Prada. Her eyes grew longingly. She so wished to take a cotton ball and dash confidence over her neck. Maeryn fought an inner battle and then, hand trembling, she wrapped her fingers around the tiny bottle. She took a cotton ball and popped open the lid cautiously. Maeryn turned the bottle slowly and dripped a single drop of elegance on to the waiting fluff and dabbed it solemnly on to her neck. The aroma filled her nose and she sighed dreamily. Suddenly, she whipped her head to the side. Eight o'clock. A bottle of nail polish flew to her hands and she brushed a thin layer of clear polish to each finger. They glinted satisfactorily. She stood and looked at herself in the splinter of mirror. There stood a taller, more slender, more beautiful girl, the girl that everyone wanted to be. Except for one thing. She removed her glasses and there stood Darby West, the beautiful girl who ruled Rockhill County Prepatory Academy with a well manicured and perfumed fist. With a final wink at the girl whose reflection did not match the one of the girl inside, she turned and swept from the room, returning it to it's silence and it's ever looming sense of hopelessness.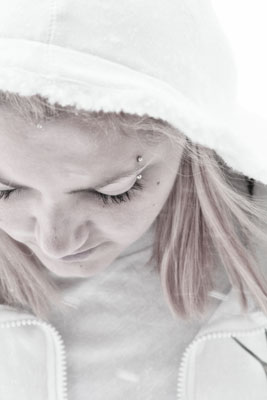 © Jessica F., Bradford, MA