We're In Heaven
April 18, 2010
I had a sister once. Her name was Lily. Lily "Dream" Banns. She loved to dance; she was my ballerina. Her favorite color? Blue. Always was. Everyone called her "Dream" because she had dreams of what she'd be one day. "Raven is going to teach me to ride a bike after school!" Her last words to Papa before it happened.

She was five when she died. She was cut in the throat and left by the lake. Her eyes were wide when they found her, and the sparkle in them was gone. I wish the cops would find the man soon, so I could strangle him and kill him like he killed Lily. I hope God gave him a disease. Or killed his sister(if he has one). If only I knew who the man was…


It's the middle of the school year. I walk home with the spirit that once lived in my sister's body. Her laughter echoes in my head. The click of her shoes when she would skip home rings in my ear. I hate that man. I hate what he did…

Everybody takes pity on my family. My mom thinks she has it the worse. She doesn't understand. Papa made me go to the school's shrink. That lady thinks she knows everything. What a fake.

Roger understands. He lets me go over to his house whenever I need to. We have a hide out: the bridge at the lake. I go there everyday. He does, too. But today, he's not here. I told him not to come. I had to be by myself. I was wearing the dress Lily gave me for my birthday. She saved up for it. Mom paid for the other three-quarters of it.

I stood on the edge of the bridge. The wind was blowing lightly, but enough to block the sounds far from where I stood.

Creeeeaak. I closed my eyes, frightened to look around. The wind, Raven. It was the wind, I thought. But it got closer, until I was under the shadow. I turned around. I looked into his eyes. The man who killed Lily. And exactly did I know this? His arm had cuts from where she scratched him. When they found her, she had skin and blood under her nails. He held the knife above his head. I can't believe Papa was about to slice my throat like he did to Lily.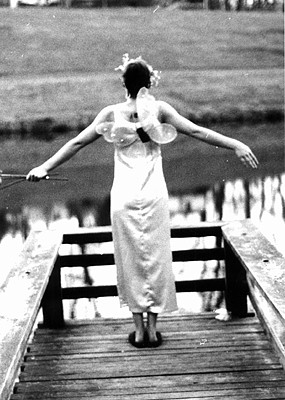 © Jennifer T., Cincinatti, OH