I love you Ben
March 28, 2010
When I opened my eyes that morning my little brother's face was literally two inches from my face. With a squirt gun.


Seriously. What a great way to start my day.

"You have five seconds to surrender monster sister or you will meet the…"

"Wrath?" I suggested. Despite all the action movies my three-year-old brother had seen, his villain vocabulary was less than extensive.

"Yes the wrath of my laser gun. Now 1…"

"Number 1 I just woke up dirt-brain."

"2…"
"And if you squirt me you'll have to eat breakfast from a straw."
"3, 4, 5!"
A blast of cold water hit my face and my little brother ran out of the room laughing in his high pitched squeal with only half of his superman pajamas on. I'll let you guess what half.
"YOU ARE SO DEAD BEN!"
***

Ben was proudly sitting at the table eating some kind of sugar infused cereal that turned the milk an unnatural shade of blue.

"Guess I better get a straw then?" he grinned. Oh very funny Ben. Very funny. You better be glad that I needed to take a shower this morning anyway.

Ben and I were miles apart on the age scale. My mom and Sean gracefully decided to contribute an "addition" to the new family. That addition, sadly, was Ben. So I now had to suffer a monster attacking my room at ungodly hours of the morning and using my makeup to paint pictures on my mirror. Gee thanks mom for getting remarried and having Ben, he's the best little brother in the world. But couldn't you have had a girl? You know, I could braid her hair instead of walking in and finding Ben's shaved off his eyebrows with my razor? Or maybe you could have gotten a dog.

"Ben you should be really glad I'm late for school, otherwise you'd be hanging from the ceiling fan."

He just laughs, blue milk and chewed cereal falling out of his mouth. Oh Ben, you don't realize just how serious I am. Really. He's still laughing when I leave.

***

Today, even short on time, I tried to look good. I curled my hair and put on what little makeup I did have left after the Ben rampage. Cute jeans and my favorite shirt. I tried to look good because today, today is my day to talk to Chad.


Oh sweet beautiful blonde Chad. Athletic, charming Chad. Chad who's in my first period chemistry class, whose locker is just diagonally across the hall from mine giving me the perfect vantage point to steal looks at him. Chad. Chad is a god. I swear he moves in perfect slow motion with soundtrack music in the background. Not Barry White, something like ACDC or Aerosmith. Classic. Goodness he's gorgeous…

Whoa breathe girl. Relax. It's just Chad, the most perfect guy in the entire school, and possibly the whole entire world. It's just going ruin your life and any chance at happiness if he rejects you. That's not bad right?

Okay he's at his locker. Leaning up against it perfectly in his letterman's jacket (basketball, football and track) and his blonde hair just shaggy enough to make him have that cute little hair flip to get it out of his ocean blue eyes. He's talking and laughing with his friends. Don't back down just because they're there.


I start walking towards him. He looks at me and smiles that perfect white smile. I smile back at him confidently. I'm going to do it. I'm going to tell him how I feel and he's going grab me and dip me down into one of those New York City kisses and tell me he feels exactly the same way. He's…

My face says a big happy hello to the floor. I didn't even notice that the custodian was mopping the floor. I can hear Chad and his friends laughing.

"Wow, did that really just happen?"

"What a klutz."

"Bound to happen, did you see the way she was walking?"

Red is my face's new favorite color. Even the positive thinking that I made Chad laugh isn't going to help me now as tears run down my face.

***
The rest of the day I tried to evade the jeers and laughter at my expense. Chad will never like me now, I'm the biggest klutz in the school. How stupid could I have been not to notice that the floor was wet? I am now forever doomed to become the cranky old witch in fairytales that live in gingerbread houses and eat children. That last part was mostly because I didn't eat dinner.
I'm still crying when Ben walks into my room.
"What are you doing in my room? Get out!"
He stands still for a moment then walks up and gets on my bed. He scoots up close to me and puts him arms around me, or at least as much of his short arms that can. He rests his head against my arm.
"I love you a lot Sissy."
I close my eyes. "I love you a lot too Ben." And I really do.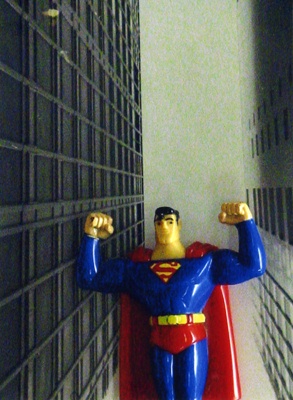 © Andy O., Highland Village, TX