True Love Chapter One
March 28, 2010
For hours I lay there, waiting for the first signs of an ambulance or any other sign of life. It was all his fault, I thought right before I blacked out.


Two hours before
"Hey girl, how's it going? Are you excited for Tom's party or what!" my best friend Angel exclaimed.
"Angel, you know I'm grounded. I'm not supposed to go, but where there's a will, there's a way. I'll see you later," I replied. Honestly, my parents had lifted the grounding, but I really did not want to go to the party. Even though Tom is my boyfriend, lately I haven't been feeling the love. Whatever, I'll go, I thought. Tom's parties are the best.

Present
When Tom asked me to drive, I told him no, even though he was probably going to get drunk later. I was in the car with him, on the way to his house. He was driving, but I could tell he was drunk.
"Tom, do you want me to drive?" I asked.
"Gemma, I'm a big boy. I can drive my own car," he replied. He seemed insulted that I'd even asked.
A deer ran across our path, and Tom immediately turned off the road to avoid it. We ended up going off the cliff that bordered the road, through the guardrail, and into a valley.
"911, what is your emergency?"
"Hello? We just got in a car accident. We're in the mountains. The driver isn't breathing, and I can't feel my leg or arm. Please send someone out immediately!"
"Okay ma'am. We'll have someone out there at once."
It was all Tom's fault. If he hadn't been driving, we wouldn't have crashed. I thought of a scene from Dear John where Channing Tatum talks about coins. Then, I blacked out.

When I came to, I heard a man talking to me.
"Miss, are you alright? Can you hear me?" the man asked.
"Where am I?"
"You're in an ambulance. We have contacted your parents. We are heading to Gallagher Hospital Emergency," he answered.
"What happened to the man I was with? Why isn't he in this ambulance?" As I asked the question, I was scared that I already knew the answer.
"I'm sorry, miss. He died on impact. Tests show that he was quite drunk. It's a miracle you survived."
I began to sob. The only boy I'd ever loved, gone in the blink of an eye. The man, whose name was Matthew, told me that I had a broken leg, arm, and two broken ribs. Finally we arrived at Gallagher. My parents were there waiting. They had lifted my grounding, so I could not get in trouble for that. My mother was crying quietly, and my father was expressionless. He has never show emotions.
I was in the hospital for two weeks. In that span, I had multiple surgeries, and multiple tests for everything from depression to rabies. Every one of my friends told me how sorry they were, but they didn't know Tom like I did. The news had broken at school, and many people came by to give their condolences to me and Tom's parents.
"I'm so sorry Gemma. This should not have happened. This was our fault, and we are so sorry it had to happen," Tom's mother told me. I accepted her apology, knowing that Tom would have told me the same thing.

When I got out of the hospital, I was told I needed physical therapy to play sports. I was the only sophomore on varsity volleyball at my school. Since I was the youngest, I had no friends on the team. The only thing that kept me playing was the promise of a scholarship. My dream school is UCLA.
The news about Tom rocked our tiny town of Lake Town, Minnesota. There's only about 600 people in the whole town, which is less than attend the local high school. Most of my friends go there, Juniper High. I don't go there, however. I go to boarding school in Minneapolis. It's called St. Simon's, and it is one of the top schools in Minnesota for volleyball. I'm only there so that I can pass Biology. Once I pass Bio, I leave Minnesota for California. My new school is called St. Katherine's, and it's in San Jose.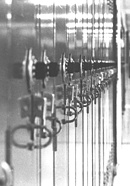 © Megan G., Rochester, MA