Yellow Lines and Tennis Shoes
April 4, 2010
The car ride there was silent. I pretended to punch some keys on my cell-phone, while he was trying to focus on staying within the yellow lines and not who was beside him, or who had fallen behind him. In these scenarios, what are a father and daughter to do when the rock that bound their family together was cracked and crumbled? I wish there was a proper answer. I wish Doctor Phil was a phone-call away. But he wasn't. There wasn't really anyone who could fix this. At least, not anyone who was qualified enough.
Suspended in a mixture of thoughts, I was startled when he broke the silence. "We could turn back you know. I mean if you're not ready, we could wait out visiting your mother a little while longer." I tried with every fibre of my being to hold it together. It wasn't fair of my father to have to deal with me crying. Part of it was because I had spent months with hot tears and swelled up eyes after she was checked into rehab. The other part was that somehow in all this mess, he blames himself. It kills him every day that he had to turn his back from her, screaming as they escorted her to the Patient Rehabilitation Wing. It wasn't fair, for her, for us. Our family was torn apart; money was drained from dad's checking account faster than you could say Massachusetts. The thing that hurts me the most, are the invisible scars she left on my heart, cut deeper than any of those sticks of hell injected into her veins. "Well", he exclaimed "I'm waiting". I sighed, looked out at the fields that seemed to run for miles long "No, I'm fine. She's my mother, and I need to be there for her, no matter what." He nodded. He turned up the abnormally large knob on the sound system, but he knew deep down that he couldn't drown out the sound of that jaded silence.
The woman who was dealing with my mother had a crazy trait of her own. You could see it in her obnoxiously tacky smiling daisies scrub and bright yellow tennis shoes. Her hair was curled into ringlets, done up in pigtails, with bangs that had more curve than a men's Olympic half pipe. The woman didn't understand that we weren't two school-aged troopers at Camp Woodsy. This was a check-on your overdosed spouse and mother after making the hardest decision of your lives by putting her into a facility, against her will. But still, she squeaked, squawked and squabbled, pointing out the "progress" mom had made. The nurse, whose name was Molly Mawken, seemed to have an overdose of optimism in her, to the point where it soured visitors and possibly the patients. What was most interesting about this character was that she did all this, despite working in one of the most depressing environments.
Molly opened the door, and quietly monitored us in the corner, as we slowly stepped toward my mother's bedside. Her eyes were grey and lifeless, gazing at a picture of a sunrise, behind a series of lush green hills. My dad spoke her name, gently, as he used to when she had a rough day. She looked at him, and then at me, and then back at the picture. I almost choked at the sight of her- her pale skin, sunk in face, short hair that looked like it had been ripped out, and skin that quivered constantly, though the room was quite warm. She refused to answer, even when the nurse had tried to get her to liven up. Despite what they said, I knew she recognized us. I knew she felt disappointed. But so was I. Especially when I tried to grab her hand and she pulled away and rolled over. I guess it just wasn't the right time. I realized this as we left, discouraged. For now, I'm still waiting, for her to return to her old self. But unfortunately, no one is qualified enough to tell me when that will be.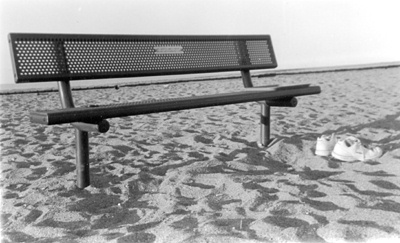 © Jenna H., Marblehead, MA