The Visitors
March 25, 2010
It's mid October and we were seated in the plane listening to the hum of the engine. My cousins, Hannah, Nick, Megan, Molly and I were sent by my mother to go spend some time with my grandfather in Maine. To tell you the truth, none of us wanted to go, but we heard the pilot's voice over the speaker that we were preparing to land.


When we got off of the plane it was easy to spot our grandfather. He was dressed in fishing gear from head to toe. He came right up to us and hugged us really tight. "Hi Grandpa" Nick shouted! "I see you've been fishing," I stated. "Well of course!" "You know how much I love to fish!" he cried. We all knew how much he loved to fish. The last time we visited all he and grandma cooked was seafood. (The only food I hate…)


We got into his beat up brown pickup truck, and started toward his house, which was located right on the ocean shore. When we arrived, our grandma was waiting with a large meal of shrimp and clam chowder. So, during dinner I slipped my food under the table and fed it to Garfield, their colossal tabby cat. I noticed that my cousins were all doing the same thing. It's a good thing grandma had bread on the table because that's all we ate.


In the morning our grandfather had "big news!" "We're going on a deep sea fishing trip!" he exclaimed. "But it's really cold outside!" cried Molly and Megan simultaneously. I looked over at them and they both had scowls on their faces. For ten year old identical twins they really weren't exactly alike. I then glanced over at Nick who was sitting there zoned out, but what do you expect from a seven year old? Then Hannah stared at me obviously dreading every moment of this. My heart went out to Hannah who got sick so easily. I thought, "She won't be having any fun on this trip."



Cold was an understatement! It was freezing! I knew in October it was supposed to be cold but I had no idea it would reach 38 degrees F! Grandpa didn't seem to mind the cold at all. We reached grandpa's boat and loaded all of our fishing stuff, grandpa calls it tackle. None of us wanted to actually fish because we all hated worms, fish, hooks and the waiting part. I could also see that Hannah wasn't doing too well as we headed out toward open water. She was leaning over the rail with her hair tightly pulled back. It could only mean one thing, so I tried to keep my distance.


I went and stood with Molly and Megan who were watching the waves. "Hey look, a seal!" Molly pointed out. "How cute!" We all watched it with adoration. When all of a sudden out of nowhere a massive shark lunged out of the water and ate the seal! Megan started screaming her head off, but Molly and I just stared in bewilderment. Apparently grandfather noticed Megan's shrieks, because he came rushing over right as the sharks fin disappeared under the waves. Megan explained what had happened and when she finished I could tell grandpa didn't believe her.


Later in the day the sky started turning an unnatural gray color, and soon after it started to rain. Our grandfather told us we should head home and everyone agreed. Nick started panicking because the storm was getting really bad and the boat suddenly started to rock back and forth.


Grandfather was shouting at us to get below and soon I was the only one left on deck. The boat gave a massive jerk and I went flying! As I fell, I hit my head on the boat's railing, and then plunged into to the sea.


The icy water was like needles piercing my skin; I gasped at the shock and slowly started to sink. Then a wave came and pushed me to the side of the boat knocking the breath out of me. Unable to hold my breath any longer I inhaled a sharp breath and saltwater and air sung my lungs. "I'm dying… I thought to myself." "I'm really dying!" Then everything went black.


When I woke up I was in grandfather's house lying on the couch, soaking wet. My cousins were all sitting around me and when I opened my eyes, Hannah screamed, "Grandfather…she's awake!"


Grandpa explained that they pulled me out of the sea when they noticed I was missing. "You could have died," he sniffed. "I know," I whispered. "It's been a long day, we'll let you sleep now," he said. But I couldn't sleep. I kept thinking… "This is only the first day of our vacation and I already almost died…what will the rest of the week have in store for us?"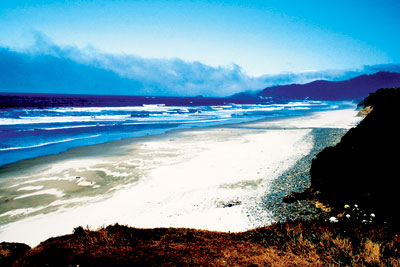 © Kristin R., Los Altos, CA