Washing Away
March 3, 2010
The rain pounds against my car like bullets from the internal war brewing within me. My knuckles turn white as I clutch the steering wheel tighter, as the memories of the last couple of days flood through my mind. I look outside the window, the rush hour highway dances with reflections from headlights, glistening with secrets, daring me to come dance with them. On a whim, I open the door. My bare feet touch the cold ground, I feel a thousand icicles crawl up my spine. The rain engulfs me, wiping away my past and making room for the future. A man in the car across from me shouts "Lady… you crazy?" Maybe I am I think, and a smile crawls up from my soaking lips.

My perfect curls I left work with, are now a mass of straight twigs, covering my face and with it, my past. I sit down and lean my back against the car, more blaring horns fill my ears. I look at the crowded highway; each car seems to hold a frustrated prisoner, usually gaping at me. My gaze drifts down to those lovely headlight reflections, they frolic around me laughing and begging me to run with them.
"Ma'm?" I look up and I see a police officer in a tight, sopping uniform, defeat and anger are plastered over his face. I smile, a real smile.
"Ma'm are you all right?" he says crouching down to my level. I meet his hate baring eyes.
"Never better," the words crumble out of my mouth, effortlessly and for the first time in a long time, honestly. He shrugs his shoulders and trudges to his cop car, not caring enough to learn more.
"Sir!" I yell after him. He stops and turns around obviously annoyed, and eager to get out of the rain.
"Sit with me," I gesture to the spot next to me. A thousand emotions run over his face, after about a minute, he lifts his face up to the leaking sky and smiles. He hesitantly makes his way over to me; he sits next me without a sound. A sigh escapes his grimacing lips.
"Look," I point to the reflections. His eyes dance with them over the road, I watch him evaluate the world. A warm silence caress us, in no hurry to be broken. We sit for a while, just sitting, watching, waiting. After a while he slowly stands up.
"Thank-you," he says quietly. He humbly walks off, taking a moment to nod at the cars still stuck in 5:00 traffic.
"No!" I say once he's a way, I look up at the sky and find my lips moving in a silent prayer, "Thank-you".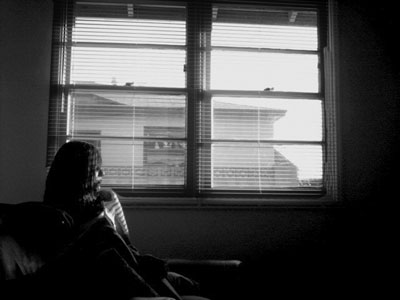 © Roxana R., Tustin, CA