30 Minutes from This Point
January 31, 2010
"Don't touch me."

So he obeys and sighs deeply, staring up at the thick strands of steel twisting through the sky. There's a roar and two dozen screams thunder by. The train flies through the final corkscrew and then screeches as it slows to a stop. The safety bars lift and riders totter out, grabbing purses and adjusting windswept hair. For them, the world feels a little strange. Those sixty seconds in the train become their world, the wind and the height, the adrenaline rush and the turning stomach. And as they drift down the ramp and through the exit, life is dizzy, uncomfortably static when compared to existence upon steel.

He tries again anyway, turning her around by the shoulder with a gentle hand.

"DON'T TOUCH ME." This time it's almost a yell. As she whips away, the end of her ponytail lags across his face, and he feels his chest tighten.

The line shuffles forward and two dozen board, flinging backpacks and sunglasses away onto the station. A bored attendant mumbles through his speech about hands and feet and photography. He taps a button, then another. There's a pause, a grinding of metal, and then the wheels begin to click as the car climbs skyward. At the apex, the air is cold and it's quiet, the noise of the park dimmed by the distance. Two dozen hearts pound and then the breaks release. The rest is gravity. Those obnoxious girls in the front row scream first, and soon the train is a choir. They screech and holler and laugh, bouncing through adrenal ecstasy. It is an equal and opposite reaction to the climb, the laws of physics.

So he waits on line beside her, silent. She's silent too. It's about four in the afternoon, not hot anymore. Sun-baked toddlers carry tiny stuffed fish, talking excitedly to their older siblings whose painted faces fashion them tigers and zebras, and Batman.

Our hero shifts his weight several times, clears his throat, and begins talking at her backside.

"If you're really going to believe something GABBY told you over what I say then we have bigger problems than this anyway. I wasn't even AT that party, you were in Cape Cod and I was in Pennsylvania."

"Then why'd you delete all your texts? And how'd your brother go to his basketball game if you were in Pennsylvania?" She paused and her voice filled with venom. "Why do you keep lying to me?"

"My phone only saves like 200 texts. Then it deletes old ones. You know you're being crazy. And oh my god, my brother didn't go to his basketball game. How many times do we have to have this conversation? I'm not the one who lies."

"You're such a dick."

He opens his mouth and closes it, defeated. The line shuffles forward again and the two of them walk up metal stairs into the station. She tosses her purse onto a bench and wordlessly buckles her seat-belt. He tugs at the end, to help make sure it's tight enough.

"Don't. Touch. Me."

"Are you serious?"

She doesn't reply, and the safety bar swings down. He stares into space and thinks about how he almost didn't move into a house on her street. A nasally voice demands for limb control, and prohibits photography. There's a pause, the attendant hits a button, and all that noise starts as they click up the hill. Our hero's knuckles have been white for ten minutes. The car ascends higher and higher up the track, as people fade into ants and cars become toys.

The train rolls over the hilltop, and there's a pause. It's eight seconds before the brakes release. He turns to her, but her gaze stays fixed on faraway treetops. He thinks of their conversation in the queue. He thinks about about the full ride at Choate he gave up to be near her, about the parties he missed to spend arguing with her. He thinks about the friends he pushed away with absence, about the wave of relief that came every time she answered the phone and didn't sound angry. He does all this thinking in about six seconds and in the final two, feels the words spiral out from his heart and up his throat, then ricocheting off clenched teeth. He takes a deep breath.

"I want to break up." This time she turns around, but it's too late. His eyes snap shut, his hands raise up, a girl in the front row shrieks, and he's free.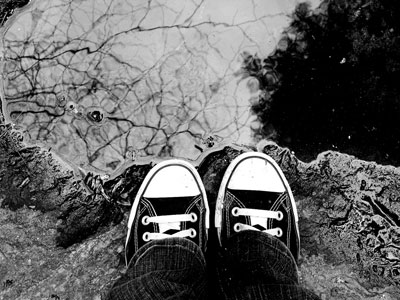 © Michelle B., Blairsville, GA