Dream Catcher
February 6, 2010
"I had the dream again, Damien", i said throwing a rock across the water.
"Was ther anything new?" he asked softly.
"No", was all I could say.
I had been having nightmares for a while now. Okay more like one, but still, same difference. He came over and hugged me from behind. "It will be okay, it doesnt mean anything", he whispered in my ear.
I wanted to tell him that there was something new. but it hurt to even think it. This time he was there and he...died.
"Damien, promise me something please", I spoke bearly above a whisper.
"Anything you want, I will do greatfully", he said still holding me.
"Promise me you wont ever leave me."
"I promise", he said holding me even tighter.
I rested my head on his sholder. just glad he could be here with me today. No one new about us and that was the way I perferd. He was everything to me, and I was everything to him. i loved him with all my heart.
"Rose, I'm afraid we must go home now. I'm sorry", he said brushing my hair form my face.
"Its okay, school is tomorrow, so we'll be together again" I sighed.
he turned me around and looked at me in the eyes. Before I knew it his soft lips were on mine. a soft kiss, as if it was coming from an angel.
Once he pulled away he spole again, "Rose I love you with all my heart, I willl be your dream catcher for you, just think of me before sleeping and the nightmare will stay away", he said hugging me tightly.
"Okay, I will", I promised.

After he dropped me off i got my shower and got into my night gown. I couldn't but help think about today it was so perfect hearing him say he loved me. Right before I had gotten out of the car I told him I loved him as well. It was a
perfect way to end the day.

I woke up to my father shaking me. I sat up and saw a grim exspression on his face. "What's wrong", I asked rubbing the sleep from my eyes.
"Honey I have something terrible to tell you. Damien got into a car reck on his way back to his house, and he died. The other driver was a drunk and died as well. I'm sorry hunny", he said looking at me softly.
I couldnt believe it, I didn't want to. All i could do was sit there with a horred look on my face. I could feel the tears coming down my face, but i did nothing to wipe them away.

The next few days were a blur to me. I just sat at my window starring into nothing. On some days i would go off with out telling anyone where I was and and went to Our place. When i was there I would just curl up and cry thinking of him.
Everything hurt, I wanted to give up so much. The day of the funeral was the hardest so far. It was also when i remembered something. He was still with me, he was my dream catcher., my protecter.

I was in front of his grave and read aloud to myself, "Damien Anderson. Beloved son, and friend. A dream catcher to all. 1981-2006."
I smiled at the tought of them putting it on there at my requst. I came back the same time every year, just to feel him close to me again, even if its in spirit form.
"I haven't given up yet Damien. You are and always will be my dream catcher. I will always love you", I said smiling at the grave knowing he could still hear me.
He was my first love, he was my best friend, and then he was my dream catcher.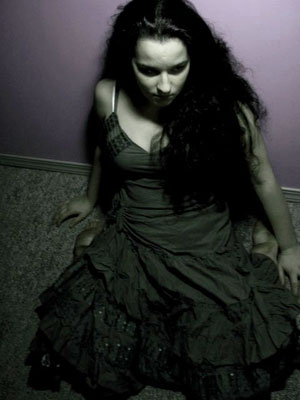 © Brianna D., Everson, WA