Different Than Others
January 12, 2010
Skinny jeans. Bleach blonde hair with the perfect makeup. That's you not me...

You see you are lucky. You get everything you want. A boyfriend, expensive clothes, new makeup, good shoes. That's all you.

Everyone thinks that I'm like them. But I'm not. I express myself. I don't conform to what others think of me. I fight for what I believe in. In all essence, to you I am a freak.

If that is all I truly am, than why am I getting a chance to do things you never would? Why am I offered to travel Europe with ohter people like me? If I am truly different than others, why are there so many tha are like me?

I may be the only one here, in our dinky little town, but I am definately not alone.

You laugh at me because I am DIFFERENT THAN YOU. I LAUGH BECAUSE EVERYONE HERE IS THE SAME. You don't know it but I laugh at you. I mock you behind your backs. Just like you do me.

So maybe we aren't that different from one another. Maybe we are the same in some aspects and different in others.

But that doesn't matter to you. It never will. All that matters to you is that I don't have the right clothes, the right makeup, the right shoes. I'll never date the star basketball player, dance with hot guys at Homecoming. I'll never letter in sports just in acting. I'll be getting scholarships for academics while you get scholarships for your athletic abilities.

I may speak my mind alot, and I may be intelligent, but I do have a question for all of you that are considered popular.

How do you do it? How do you become popular so easily? What? No answer? But you've been doing it your whole life!

I hope that when you reach the peak of your life, whenever that may be, you remeber me and all I did in high school. All the things you considered different...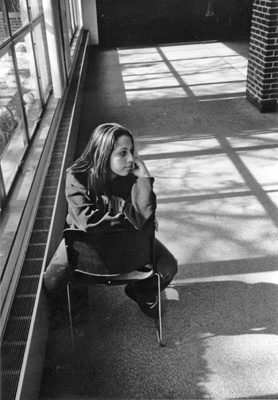 © Leighann E., Westport, MA