A Shoulder to Cry On
January 6, 2010
I've noticed that when I need to talk to someone, I can't. Sharon wasn't just my friend, she was my best friend. Today, however, she wasn't fulfilling her job. Her phone was off and I needed to talk to her. "Pick up!" I repeated to her voice mail. I had called at least 10 times since I got home from now.



My favorite person in the world had been snatched up. My grandmother, Minnie, was gone. I heard the news when I got home from school. Minnie had had lung cancer. Just as I thought she would make it, she was lost. I stopped relentlessly calling Sharon, partly because her voice mailbox was full. "Beep!" my phone vibrated. I immediately grabbed the tiny pink phone. I picked up the phone but didn't say anything. I was afraid if I said a word I would start sobbing. Sharon was on the other line. "Hello? Tina?" her voice came through as a question. I sniffled to show I was there. "Tina? Are you alright? I'll come over." Sharon answered her own question. I still didn't reply, I knew she would come over.

Soon enough, I heard the back door open and shut. My mom welcomed Sharon in. My mother was a dead give-away that something big happened. Her face was stained with tear lines. Normally, I would have panicked and put make-up on. My face looked like I had measles. Sharon came in. She rushed over and hugged me. She still had no clue what happened, but being a good friend, she didn't ask. After a while of sitting and staring at the floor, Sharon said, "Um, you don't have to tell me, but, if you don't mind, what happened?" I had finished my sobbing for at least fifteen minutes, so I think she knew it was okay to ask. "Minnie, she….." I couldn't finish, I could already feel the golf ball throat developing again. "Oh, I am so sorry!" Sharon said. She knew how close I was to Minnie.

Sharon stayed the rest of the day. She kept my mind off Minnie; at least most of it, Minnie was always in the back of my mind, though. Sharon's phone rang. "Oops, it's my mom, it will be no more than two seconds!" she told me, even though because it was her mom, I knew it would be longer. "Yes….I know!!!! Okay…..yeah, I'll be there" Sharon hung up her phone. "My mom says my brother is coming home, so I have to be home for dinner." I nodded. "I'll call you as soon as possible" Sharon assured me. "It's okay, really." I said, although I really did want her to call. "Okay, but I'm still going to call you, and if you need to call me, go ahead, I don't mind." Sharon walked away and zoomed down the stairs.

Sharon was over the next day. As soon as she walked in I asked her, "Why?" She understood, "No one knows why, but she's happy now, she isn't hurting." Sharon was right, but I was too irritable to care, "I know, but I'm not happy, I want her here." I looked up at Sharon; I could hear everything she wanted to say without her saying a word. She was thinking: Tina, no one wanted her to go, but she isn't far. I let out another teary sob, "She was fine, she was perfect!" Sharon hugged me. Sharon knew Minnie had lung cancer, she wasn't just fine. "She had to go Tina…." I knew Sharon meant well, but I didn't want to hear what she said, "No she didn't!" I knew I sounded like a baby, but I was angry now. Sharon was good at holding back the harsh truth, "Tina, she's happy now, she's looking over you." I forced a smile, "Thanks…I feel a little better."

The day of the funeral arrived with much grief. Sharon came with me. I was holding up pretty well, until the eulogy came. I know eulogies are supposed to honor the deceased, but they just turn on the water-works for me. I buried my face in my hands. Two people were allowed to see my instant-rash face: My mother, and Sharon. The eulogy was over. I wasn't exactly glad, but at least it gave my eyes a break. I went over to the coffin before they closed it and took it to the cemetery. She didn't look like my grandmother. She was like a mannequin, lifeless. She just lay there. Her eyes shut; her voice wasn't coming cheering someone up, like it usually was. I touched her hand, ice. It wasn't the usual warm hand reaching out to hug me. I gazed at her. She wasn't there. I physically could see her, but that didn't prove anything. I felt a hand on my shoulder, it was Sharon. She smiled back. I took one more look at Minnie, then left.

This wasn't over. I still had to go to the cemetery. The closed casket was propped on some kind of pedestal. Outside it was raining, so a small tent for Minnie's close family was set around the closed casket. Minnie's favorite flowers, orchids, surrounded her coffin. She was to be buried next to my grandfather. I wished she could comfort me now, just like she did at grandpa's funeral. I had trouble believing she was in the enclosed box. She, her body, was just sitting there. It would be there forever. My crying had subsided on the car ride to the cemetery, then the thoughts of her body in the coffin, of these strangers laying her in the ground; I remembered that she would there forever. I suddenly burst. A huge lump developed in my throat. I covered my face. I couldn't stay standing there anymore. I don't know what came over me, but I left. I ignored the thoughts that Minnie would disapprove. I ran far enough so no one could see or hear me. I slumped down by a nearby tree, and sobbed. Sharon appeared next to me. I didn't look up; I was too embarrassed, even though she was my best friend. She sat next to me and put her arm over my shoulder. I was silent. We just sat there. Sharon began to let a few tears out. We never looked at each other, we just sat crying. After what seemed like three hours we walked back to the tent. The next day was a blur. I lay in bed and got up only once to get a drink. The next few days were the same, each day a little better. A week passed. Sharon came over. "Hi," I said. For the first time in days I spoke, completely sure a whimper wouldn't follow. "Hi! I see your feeling better." She said.
"Yeah."
"I know she was close, but the way to get over your pain is to always remember she is right here when you need her."
I just nodded.
"She's only a prayer away!"
This time I smiled. I saw Sharon this time. She was smiling. I realized, to get over it, I needed to things: a smiling face, and a prayer.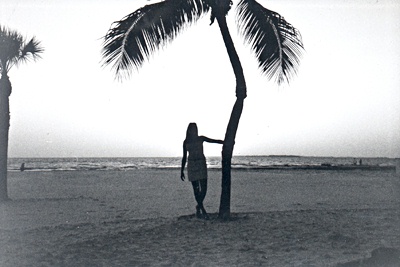 © Kim B., Marblehead, MA