The Bathtub
December 1, 2009
Have you ever laid in the tub, with the water covering ears, your knees up in the air, with silence all around you, and feel as if you've escaped life for awhile?
That bathtub became my sanctuary.
That bathroom became my escape.
As the water covered the parts of my body that creviced in, the aroma of my favorite cucumber melon candle grew stronger. The lights were off and I felt like the water, the tub, and I were the only things existing in this world.
For awhile I felt like I could live this way forever.
I did not need food. I did not need people. I did not need love.
The water surrounded me and held me and I knew it would not let me go until the moment I decided to pull the drain.
But I would never pull the drain. I would stay this warm and happy and peaceful forever.
While my ears were under the water, I felt like a beautiful whale, floating through the sea. Except this sea was empty. It was just a whale in harmony with its atmosphere, and once this whale left this atmosphere, there would be nothing.
I felt as if I, myself, was nothing.
My problems – nonexistent. My self-centered boyfriend- nonexistent. My distant best friend- nonexistent. My pains, my sores, my scarred lonely heart in which you so thoughtlessly forgot to return- nonexistent.
All was beautiful. All was nothing.
Then, my eyes opened and the water whispered in my ears: "You can't hide in here Courtney, you are very real, you are very here. There are things in which need to be done, there are people you need to see, and many more you must please."
I started to cry and my hands grew wrinkly and the water started to get cold. Before I knew it, the water was gone and I laid there, naked, cold, shivering, weeping in a tiny little tub. A tub, I realized, that was just used for people to cleanse themselves in, not to disappear in.
And I felt defeated and dumb and young. And I realized there needed to be a change.
So I stepped out of the tub, onto the surface. I grabbed a towel and warmed my cold body. I stood over the sink and stared into the mirror.
And there I was.
My eyes- which looked tired and worn as if I have seen too much. My mouth- which has grown more useless with age. My lips- which have kissed too passionately way too many times than they should have. My ears- which have heard too many lies and goodbyes and rang from the silence that I kept in my own house. My breasts- which have grown and defined my into a mature woman way before I was ready to be one. My imperfect stomach- which has put up with too much of my selfish alcohol abuse. And my heart- which was buried beneath my chest, that was hiding for awhile. And as I put my hand over it I could feel it beating, ever so softly, but definitely beating. And I was definitely alive and I was definitely existing.
So I smiled at myself and said, "Hello Courtney, I've missed you." And I realized that I have been this same girl in this same body for the past seventeen years. Constantly hiding, constantly making up excuses for myself to lie in a bathtub and make the water my only friend. Constantly substituting my happiness with loneliness because I was afraid and tired of getting a little dirty, a little hurt.

So I put on my rob and started a pot of coffee and blasted Violent Femmes "Blister in the Sun" and danced around the kitchen naked. I rolled a joint and painted a picture of my backyard. I called my ex-boyfriend and told him I hoped he was doing okay, and I meant it. And for the first time I no longer had the desire to f*** him. I put on my favorite jeans and my bright red sweater. I slid on my best shoes and just as I was about to go out and conquer the world, I got a knock on the door.
There stood a little boy, with curly brown hair and a nicely defined milk mustache. "You owe me a dollar!" Surely I did not owe this kid a dollar; I did not owe anyone a dollar. I told him he was crazy. He asked me why I was dressed so weird and I told him it wasn't weird it was eccentric and I knew he had no idea what this meant. So he stared at me, impatiently wanting his dollar, and I gazed back at him wondering if he took showers. I handed him a five and just then the clouds started to gather together and it began to pour.
"Want to play?"
Just as I was about to slam the door in his face and return to my beloved bathtub, I realized that this is exactly what I wanted to do.
So out we went, in the pouring rain. I raced him to the end of the block. I raced him to the end of the subdivision. I could have raced him to the end of the world before I realized we were soaking wet and standing in the middle of the road and his mother had been screaming his name to come inside. So off I went, back to my quiet house, alone, soaking wet.
I took off my shoes, turned the music of. I turned off the coffee pot and ran the tub water.
And just as I was about to step in, I drained the tub.
And took a shower.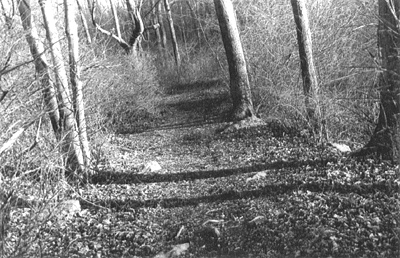 © Nicole N., Wilton, CT