Joseph
November 5, 2009
Joseph is thirteen years old. His parents gave him away as a child; they were only fifteen at the time. Joseph now lives with his auntie. She's a wicked old lady that beats him and treats Joseph mean. They live in an old house, in an old city called Jeeves. He gets to school, but barely. When he doesn't complete a chore he gets beat and stays home until the bruises heal. She usually has a cover up about why he isn't at school.
"Joseph, get in here!" His auntie screams, He gets a chill down his back.
"Huh?" He looks at her.
"Go to the store. We need some milk." She gets out of her Loveseat and stands, she pulls him closer to her and he flinches, "And you better come back this time." She lets his collar go and he hurries out of the living room to his room.
Joseph has tried to run away countless times, but he always gets caught because of some crash or coincidence. The last time Joseph and Rabbit, His dog were on their way to Holton City, When the bus they were on crashed. He bumped his head and the hospital called his aunt to come and get him. Things like this seem to always happen when he tries to run away. He thought it was God but he didn't understand, "Why God wouldn't let me out of my misery?" He says as he packs up some clothes for his next attempt.
"Maybe there isn't a God." He looks down at the cross his mom had given him when she visited, and gets a little frightened and asks for forgiveness. He stuffs a wad of money in his pocket, the money he had stolen from people around his school and neighborhood. Rabbit barks at him and scratches at the door.
"Yeah, you're coming too." He pets Rabbit on the head, "Lets Go."
He had walked three miles away to the bus stop, He was heading for Holton City again, and that was about two hours away from Jeeves. As he and Rabbit waited for the bus to arrive he went to the store to get snacks for the trip. The cashier looked at him suspiciously, maybe because he looked raggedy. He had on Denim jeans with a huge hole, his shirt was red and collared with a huge bleach stain and his shoes were dirty Airwalks and they had holes and the sole was almost off. He didn't mind the lady at the cash register because he knew the reason, he just smiled and said "Hi." And Rabbit barked.
CRASH! There was commotion outside, a car accident but he didn't mind going to see. It was none of his business. When he got out there was a car on fire and paramedics and police cars all in front. The car was his aunts, "Oh my God! I've got to go. Fast!" He hoped that old lady was dead. He couldn't go back, not this time. He felt so good about this time, He couldn't go back. They ran to the Bus stop. Thank God he was just in time until, He accidently let go of Rabbit's collar and a car in front of the bus hit his dog. He sat in silence and the car kept going. He couldn't go back. In tears he sat on the bus and silently sobbed. His only friend, But he could never go back.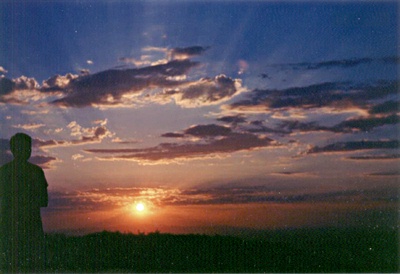 © Jovee B., Dededo, Guam