Dailt Reminders Chapter 1
October 18, 2009
Darcy turned to her best friend, Emily, and subtly pointed to someone as her deep brown eyes lit up like a fire, just set ablaze. Emily glanced up to see a boy both girls knew. It was none other than Mark Andrews. Mark was tall with a dark olive-like skin tone. He was muscular, and he had a certain aroma that Darcy could not resist. Darcy was desperate to get Mark's attention and she felt a need for him to reciprocate her feelings for him. She would do anything for him to love her too. She's had a crush on him since third grade, which is ironic because Emily has hated him since third grade when he put gum in her hair. She had to get ten inches of hair cut because of him. All of a sudden, Darcy realized Mark was standing by her.


"Hey Darcy! Hello Hell-Child." Mark exclaims with enthusiasm and then mutters as he calls Emily by her nickname


"Hey Mark!" Darcy screams followed by nervous laughter.


"What's up LOSER?" Emily shrieks, interjecting Darcy's titters, "I have an idea. Why don't you turn around, walk away, and go f-"


"Emily! He's just trying to be nice," Darcy turns to Mark and tries to compensate by saying, "Don't pay her any attention. She's just cranky because she didn't eat breakfast." Emily was already angry because Mark come over, but now that Darcy was defending him instead of her, she was furious. She hopped out of her seat and sat by Stacey MacDonald. Darcy could tell Emily was heated when Mark situated himself in her chair. Darcy decided to give Emily some time to cool down. Meanwhile, she took the opportunity to flirt as much as possible with Mark. Soon enough, the bell rung and class was over. Since they had both been talking the entire period, they couldn't focus enough to take notes. They didn't even get ready for the bell to ring. Emily peered at them through her slanted eyes. Usually, she went off to science with Darcy, but she and Mark still had scattered papers, books, and writing utensils. Emily looked at the clock, looked back at Darcy and Mark, and began walking out of the room. Right before she stepped out of the room, Darcy heard her muttering swear words under her breath.

With just three seconds to spare, Darcy and Mark dashed into the science room. She then sat in her normal seat next to Emily. Emily was no longer angry with Darcy. It didn't take long before the girls were talking again. The whole period Darcy wouldn't stop talking about what a great person Mark was. She told Emily he was very kind, extremely sweet, and that he wanted to be a veterinarian for underprivileged animals that have been abused, neglected, or have been in shelters for several months. If Emily heard one more little thing she would begin planning Mark's homicidal death and funeral. Darcy soon became lost in her own words, and later began daydreaming.




In what seemed like an eternity later, the bell had finally rung and class and school was over. Emily waited by Darcy's locker for about thirty minutes before she decided she had somehow forgotten to get her books and left. About an hour later, when they were supposed to meet at the mall, she was still a no-show.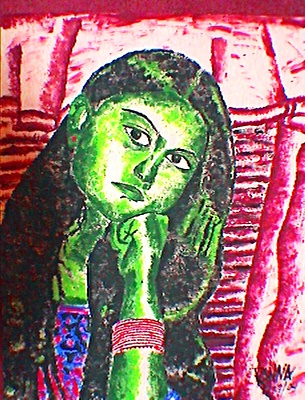 © Ranna C., Monmouth Junction, NJ