Thoughts of the Intellectual Teenage Girl on Kissing
September 23, 2009
Thoughts that run through my mind before a kiss:
Hey, I am smiling at you.
I am grabbing your hand.
I am standing extremely close to you.
So close that I have to tilt my head up to see you.
It makes you feel like more of a man when you have to look down on me.
I can feel your breath on my face.
Just kiss me damn it!
Oh My God.
He is leaning in.
This is where I blackout. Did I lean in? Did I stay still?
Thoughts during the kiss:
Finally!
This one is handsy.
Didn't he just break up with his girlfriend of eight months yesterday?
His lips are wet.
What is the big deal?
Kissing isn't that great.
I stop the kiss and look anywhere but his face.
Thoughts after the kiss:
Fine.
I will continue to make out with you.
Thoughts on first kisses.
Girls plan-out their first kiss in their minds. Dream about them just as they dream about ponies and rainbows, fantasize about them in class or before they go to sleep. A first kiss is a milestone.
Types of first kisses:
First cheek kiss.
First lip peck.
First kiss longer than three seconds.
First make out.
First kiss with someone you love*
First kiss with a new guy.
First kiss with your fiancé.
First kiss with your husband.
*Many of these could also this one.
My first kiss fantasy:
Altadena park, a five minute walk from my house. The best friend I had spent endless hours running around with(I was a tomboy so this best friend was a boy). The very rare and wistful wish of rain in Phoenix, Arizona. I had known by my recklessness that my first kiss would also be my first make out, this self assessment was true.
My real first kiss/make out:
Fizzy beer. Amazing vodka. Disgusting vodka. One jerk I could not stand. A mini-van. Four shooting stars. Four o'clock in the morning.
Current thoughts:
I hope myself and every other female get an amazing kiss with someone they love…before they turn 16.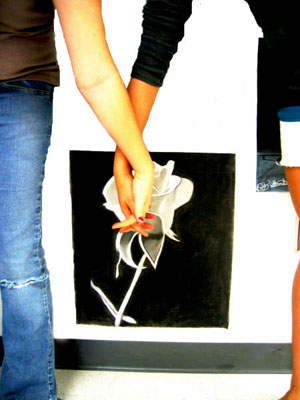 © Josie G., Wilmot, SD