Honey...We're leaving
July 19, 2009
The silence, the total darkness, the fear of your own shadow, The sensation of being stalked. All these incidences can drive a person insane. The jet-black sky was now dyed by police lights, the ear-splitting sirens were screeching. Nothing could save you now absolutely nothing. In the middle of my absent mind I felt a hand hauling me out of the house. In the distance I could see a figure with hands wide open for me to fit in. But I didn't want to leave. All I wanted to do was slip back into bed, I was still dozey from being waken in the middle of the night and being striked by the shocking news that we have to go. Away from this house, away from this neighbourhood, away from this city, away, far far away.

Dawn cracked, my eyes kept shutting, but I had to stay awake I wanted to know what was happening. Mum stood in the distance, her hair messy, her face chalk white, her eyes were swollen and bloody red. You could tell she was going through a very bad time. She was whispering to a police officer. Something was happening, something they didn't want me to know. Time passed. I felt tired so I shut my eyes tight and curled on the sidewalk hoping all the troubles would go away. I shivered, then forced myself to sleep on the icy ground.

Suddenly I came back to my senses and felt a slight vibration. I couldn't help ignoring and going back to sleep but I was so curious. We weren't still, we were moving. As I opened me eyes I slowly realized I was in a car, Mum's car. "Where are we going, Mum?" I whispered as I had very little energy left and was still feeling sleepy, "We're going somewhere honey," she replied her voice was thick and she was sniffing once in a while which proved that she was crying,"Somewhere safe" I heard her say under her breath. She didn't seem to want me to hear.

The journey seemed to be endless. Sleep wasn't a superior option, as everytime we faced a road bump i'd fall to the bottom of the car. In the middle of the silence, I was getting a little bored. I wouldn't could expect a 12 year old to stay silent for a long time, it is pretty hard I must say. I started to guess what was our destination, where were we going and what is going on in mum's mind. I couldn't see any lights that showed there's any sense of civilization but I could feel that mum was a little relieved which may mean that we were getting closer and closer. In the middle of my thought web the atmosphere turned black and I faded into another world.

"Honey! Vi get up." I slowly woke up to see mum's face staring right through me, the sun was shining straight into my eyes, "Violet, we're here." you could sense the excitement in her voice, her face had little colour spurted back into it, she gave me a little burst of courage. I got up to find myself in front of a huge dark house, specifically a large villa. Mum explained briefly that this house belonged to Dad's parents long ago. The thought of dad brought tears back to my eyes, I flashbacked to yesterday to see my own dad being dragged out of the house, carried by a bunch of strangers, his face wasn't affected just molded into a frown and a patch of blood in the middle of his shirt, where he was stabbed or as the police call it 'suicide' but I don't trust them, recently I can't help trusting anybody, anybody but Mum. She makes me feel secure. I blocked the tears, forced a fake smile and jumped out of the car.

I looked up at this unfamiliar house, that Mum and I will be having to live in for the next so many years. I couldn't resist feeling uncertain. Were we going to live here for a new fresh beggining or was it going to be another limited ending?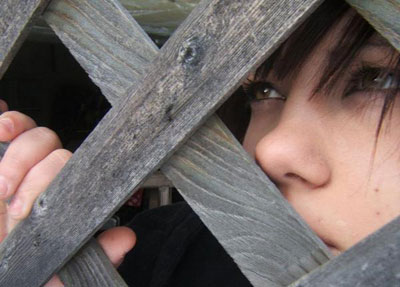 © Krystal B., Bloomingdale, IL