Heartbrek
July 9, 2009
Two perfect diagonal cuts on my forearm. Hot tears fall off my cheeks, each one of them representing another way I let everybody down in my life . What have I become? This is not me, this way of feeling, thinking, watching, listening, breathing, living. It's all foreign to me. When you do something that could alter your life forever, you rarely know it. I was a fraction of a centimeter away of ending my life forever. And now, I don't want this anymore, I want my life back. You say "Just this once. How bad could it get?" But it will get bad, fast too. Drugs, sex, thoughts of suicide. I found out the hard way. I let it get to me. And now I'm locked in my bathroom, sobbing on the salmon colored rug, a pair of bloody scissors in my hand.

My life will end, and how will I be remembered? "The girl that killed herself in the bathroom" That's how I would be remembered. My poor parents. They must feel more pain than I ever have. And I did that to them. I made them feel agony.

Tears spewing from my eyes, I stand up on shaky knees. I face the mirror. The thing that is staring back at me used to be a beautiful, smart girl. Used to be. I place my hand on the glass and stare transfixed at the monster of a teenager I became. The blood from my wrist dripped into the sink and made a hypnotizing pattern in the water. The beauty of blood. It disgusted me.

Nobody understands what happened to me. I don't even understand it, and that makes my life a hell of a lot harder than it already is. Sometimes I think that I can even hear my old self inside of me, telling me to be her, to love her again. I ignore it. I always ignore it. Bringing the scissors to my wrist once again, I hear the voice screeching to get my attention. "This is tragedy, this is horror, this is not you…" When I shut my mind away from it, it comes back louder and more agitated "It's never enough with you is it?… IS IT?" I claw at my hair and scream, trying to get the voice out of my head. Giving up, I collapse on the floor and cradle my head in my knees. My breathing is labored, and I whisper "Help me. Please help me. I don't want this." Nothing happens. I might have killed the voice inside my head…and then, I'm senseless, numb and possibly insane. My tears stop coming. And I hear the voice once more. " You don't need this. This isn't you. Come back" And for the first time in my life, I listened to myself.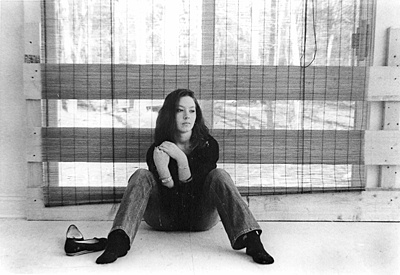 © Crystal F., Marshfield, MA