untamed silence
July 6, 2009
It was their daily jog. Or at least she liked to think. He was always a few steps in front of her, but that just served as motivation. Around the park they would go, twice. And sometimes, again.

He was cute. Maybe an 8. Or at least the back of his head scored that high. His hair was shaggy and dark. But not black, not quite. He never even put it up. Looked good even sweaty, which was good because that was the only time she really ever got to see him. His shirts were always under armor, half see through. His skin was tan, never burnt, even in the summer.

In the fall, when it got chilly, they occasionally went to the club and ran on the treadmills. It was never planned, they didn't speak at all. Come winter, every morning they would show up at 8, run until nine, break, run until nine thirty and then shower and part. The winter was her favorite part. Sometimes they bumped into each other at the water cooler, or silently stroll to the different locker rooms together. Either way, winter was pleasing.



Their jog. Around the park. Stanford park. She was behind him mostly. But that was fine. He like some attention. What else was he going to do, right? Slow down and show his hidden desperateness? I think not. He was partially embarrassed that she always had to look at sweat. He wasn't even that hot. Just nervous. But he supposed that was okay.

Winter was better. Or when it rained hard. Then the gym was the option. He always got glances of her then. For an hour and a half total. He never wore a watch and nonchalantly tended to look at the clock every four minutes. He managed to gaze at her from the corner of his eye. In fact, forget the clock! He didn't want time to go by. The more time with his mysterious, silent companion the better. Winter was best. Regardless of the desk lady. She always seemed so stiff around him.



Look at them. He won't double take at me to see how hard I work in the morning through the cold to grab his eye. No. no, he won't. He doesn't seem to see anyone but Margot, the woman who always snatches up the machine behind him every single day. They haven't been sick once in the last seven months. They are both there, every day, every time.. I would run beside him but they always show up when I am working. I am stuck behind this desk. Forced to stare and be overwhelmed with my jealousy. Plus, I am more of a night runner. That is my excuse I feed to everyone else. Well, my friends. Okay, my dog. But at least she isn't too ashamed to look at me.

Margot
is just too embarrassed to say a word.. Not 'hey', or 'hi'. But they both just enjoy their presence. Their jog was sentimental, almost. Sickening. Love birds.

Though I suppose that is how he felt when he was only eighteen, four years ago. Linda always brought him tea or lemonade right before they left. They left together, I think. And If I do recall correctly they worked together and were in college classes together also. Life was simpler for him back then. But Linda moved when she got an acting break. He continued the occasional musical, only a few making it to Broadway. He has read about her in the magazines he brings with him in his gym bag. Curse myself for having to check them. I feel like I'm invading privacy. But I did find that he had read about her becoming mom-to-be at a very young age, and he seemed crushed.

Maybe Margot is in the entertainment business too. Maybe Jack was back in the game. Maybe if I did run next to him, and told him about working the lion king (Broadway On Stage Production) he would actually view me as a person. I would like that.



She choked on her words. Couldn't think of anything to say this week. Not even: "Wow! I drink the same water." that would've not been very productive to learning his name or anything. But she thought it would be something to say. Walking to the locker rooms she was desperate for words. HIS NAME. That is all she wanted to know, and for absolutely no reason, she was too star-struck to ask.

The secretary!!! Yea! She'll know, right? And then maybe she could actually address him. Maybe. She would think all night about what to say the next morning. Just like last night…and the night before that. This time she had confidence though, and maybe the lady at the desk had noticed something. Maybe she could help. Well, not really. Things like that are not conversations you usually have with the desk worker at the gym you go to. But hopefully.




He had asked the secretary what the woman's name was. Margot. What a beautiful name. Simple. And in line at the vending machine for flavored waters, he would say: "You're here a lot Margot." Easy conversation. Easy does it. It wouldn't be hard at all. However deciding what type of tone to use in the voice might not be that easy, so. Um. Maybe 'easy' isn't the word for what he was going to do tomorrow morning. This is just getting harder.




Of course Jack wants to know her name. She wants to know Jack's. Did either of them notice the name plate on the desk? It ought to be entertaining tomorrow just to watch what two people can do with each others names.


She pulled in. Park in the usual spot next to Jack's car. Yes. That was the glorious man's name. out of the car she stepped. A little bit ahead of him. She slid a bit on the packed-snow-goes-ice, but was determined not to slip and fall in front of him. She was already falling for him. She didn't need a public audience for it.

They stepped inside and to the locker rooms. She grinned. Today. Today, today, today, WAS THE DAY. No backing down. No. that was not an option.




Well. It was water break. Here goes, he thought. Their eyes met and parted. She whistled a soft tune. He took a deep breath. He opened his mouth. Nothing. Nothing at all. The secretary's eyes were upon them. She couldn't take it. Not anymore. If he was going to fall in ove with her, they were going to have to talk adventually. It was getting ridiculous.

"Oh for the love of Pete! Jack! Meet Margot, Margot-JACK!" many people burst out laughing. They had been waiting for this just as long as Jack and Margot had.

Jack stuck out his hand, and Margot grasped it. "Nice to finally meet you." she said.



ON the way out, Jack stopped by the desk. "Thanks Samantha." he kissed her cheek, anad she just about fainted.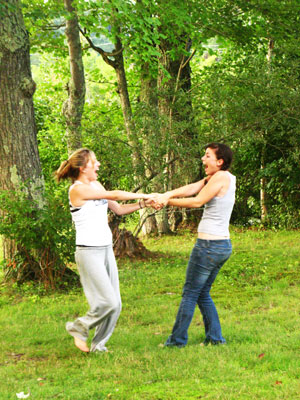 © Chantal C., Falls Church, VA