They Call It
June 16, 2009
I sit on the edge of my bed, staring at the gold cap and gown that lie on my dresser in front of me.

The silence is agitating, so I tap my three inch heels together. I glance up at the mirror and stare at the reflection. The reflection of a girl with brown hair, brown eyes, and a blank expression.

It doesn't seem like me.

I hear my dad calling me. Asks me if I'm ready to go. I say yes as I pick up my cap and gown and tassel.

I didn't think this day would come so fast.

I cringe when Dad pulls up to the school. Hesitantly, I open the door and jump out with my belongings. Dad just smiles, says, "Good luck", and drives off.

I'm a little late, I realize as I see all my peers already struggling to keep their caps on their heads. so, absently, I put my own on and camouflage into the crowd of a hundred, or more, students.

Everyone seems happy, I observe, watching people hugging each other, smiling, laughing. So why am I not? I wonder.

Our teachers announce that it is time. The ceremony is about to begin.

Like mice, we all scurry to our places and form the line. The room is dead silent for a brief moment before the music begins. I close my eyes, take an exasperated deep breath, then exhale when I open them.

The line moves. One by one, we begin entering the auditorium. When it's my turn, I focus on the person in front of me and not the slanting walk way I have to walk down in heels.

I try to clear m mind and concentrate. Right foot, together, left foot, together, right foot, together..... But when I do look at the parents and people surrounding me, I try my best not to cringe away from the cameras.

Finally, I sit in my seat and reminisce my elementary years. The good and bad ones.

I blink and realize the principal is talking. She says he's proud of us, blah, blah, blah. He's honored to be here with us on our special day, blah, blah, blah. I roll my eyes figuring that he says this to all of the classes.

I sideways glance at the girl on my left and see her looking up at the stage with moist eyes.

I sideways glance at the girl on my right and see her face wet as fat tear drops slide out her eyes and down her cheeks.

I look away and stare at my knees when I feel my eyes begin to sting. I blink back the tears and try to drown out the distant gurgling of the principal's voice. But he doesn't seem to stop.

I sniff and look up with a raised chin.

Time passes with given speeches. I don't pay attention. Instead, I try to keep my mind busy, thinking about what my summer is going to be like.

Suddenly, everyone around me stands and I look at them confused. After a second, I stand, a little awkwardly, realizing the diplomas were being passed.

I follow the line around the seats, up the stairs, to the stage.

I squeeze my eyes shut when I hear my name being called out. I stand up straight, chin raised, and walk to the principal. He hands me my diploma and shakes my hand.

"Congratulations," he says and I force a smile.

I walk past him, shake hands with two other administrators and look out at the crowd of parents and friends.

Then at the crowd of my fellow alumni. Which of most I call friends. Which of most I know fairly well. Which of most I might never see again. My chest grows heavy. I can't believe this is happening. Although I know that the moment the principal handed me my diploma, my fate was sealed. It's goodbye Elementary school and hello High school.

I walk down the other side of the stage and a teacher hands me a red rose.

I think of how much I'm going to miss Elementary. Not only the place, but the people. The ways I know every inch of the place and every short cut. The way I instinctively knew where to go every morning. How this was the place I came into everyday to learn, maturing along the way.

Once again, I take a deep breath as the reality of it all weighs on my shoulders. It's finally dawning on me.

A small smile forms on my lips as I open my eyes and a single tear escapes my eye and falls onto my rose, disappearing within the petals.

It's the beginning of the end.....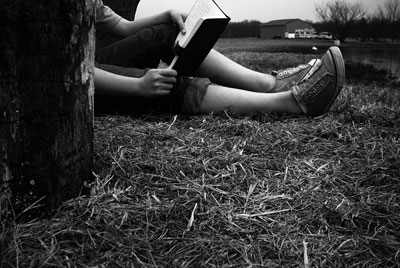 © Kristen D., Kenton, DE