Mr. and Mrs. Bottle
May 26, 2009
Like lightning, alcohol had taken control of her life. One night, in the chaos of a party, the vile liquid touched he lips, and she was in love. A few more nights and they eloped one Saturday morning. Day in and day out her spouse accompanied her secretly, hiding himself in a pocket or bag.

Unfortunately, her husband did not come cheap. At first, he demanded money from her parents' wallets. They were newlyweds—how could she fail to comply? This provided the couple a brief respite, but as the girl's need for her lover grew, so did the cost. She had to get a job, otherwise her parents could not help but notice the money liberated.

She could not work in any store or company. If she drank during hours, someone would catch her for sure. Once the secret came out, they would force the two to divorce. Her parents would say their marriage was unacceptable. Others would say separation would serve them both best. She knew better, however. They were wrong. It was meant to be.

The only option available was to babysit. Children who were prepubescent or near infancy could not identify her husband for who he was; if their lips met in their presence, there would be no gasp of alarm. To her wards, it was just another drink. It was easy enough to be employed.

Under her negligent care, kids ran wild. Had parents come home before the designated hours, they would have found her prone, apathetic figure on the couch, ignorant of their children's whereabouts and activities. In her left hand, she would hold a bottle of some spirit; her husband was kind enough to accompany her as she worked to support him. Because it was for him, she had no complaints. She shuffled from house to house, week to week. The ritual was identical from one house to the next. Wash, rinse, and repeat.

Half an hour before her employers would return, she put the children to bed. With rancid breaths, the couple would sing the children a lullaby. In a drunken stupor, the girl screeched out the words as the bottle accompanied her with a rhythmic clink on the nearest piece of furniture. After trial and error, they discovered their show was only successful with one song. The words went something like this: Rock-a-bye baby, on the treetop. When the wind blows, the cradle will rock…

Her weekly performances never ceased to bring tears to her bloodshot eyes. She couldn't explain it, so she consulted her husband on the matter. He had no answer for her either, so he made her forget about it like he did with all her troubles. They sang the same song every time they would babysit. The tears would come to her anew after each session. Like a dutiful spouse, the bottle would come to whisk away her daily worries. Wash, rinse, and repeat.

Time passed. Her grades dropped below Ds, she no longer talked to her friends, and she had fights daily with her mother and father. Strangely, none of it seemed to be happening to her. Like events on a projector's screen, she saw her own life like photographs and movie-clips. Everything was so surreal. The only thing that did not seem fake was the bottle she clutched close every night, proof that she had drunk herself to sleep.

Apparently, she held onto another phantom habit, because at breakfast one morning her mother explained that she sang in her sleep. Every night, without fail, the girl's mouth would move to make the same words. Both parents agreed that it went something like this: When the wind blows, the cradle will rock. When the bough breaks, the cradle will fall.

The girl was a bit surprised. Perhaps she spent too much time babysitting children. Or, maybe, she did not have a large enough dose of her husband. She had not been feeling very well as of late. A smile sprung to her lips. It must be the latter.

That night, she took three bottles to the house where she worked. Never before had she passed the figure of two during one session. But it was necessary. Recently, she didn't feel as close to the bottle as before. What would serve the couple better than spending more time together?

Before taking the little boy to bed that evening, she drained the contents of the final bottle. Up the stairs they went, into the Power Ranger themed room. She tucked him in. The little tyke gave her a goodnight hug. Sitting on the side of the bed, she cleared her throat. It was lullaby time.

Before getting home, she picked up one more bottle. The private concert earlier had mysteriously moved her to tears, like always. She must have been sad of her husband's sudden disappearance. After so much of him, his absence was almost unbearable.

The world grew unusually dim as she made her way through the front door. Her parents had taken advantage of her leave to go out without needing to prepare her dinner. They honestly need not to have worried. Their daughter had not eaten much since her marriage. At the staircase, she mounted the first step, while giving her husband a long kiss. Halfway up, the world went blank.

As the clock approached midnight, her parents returned home. When they opened the door, the mother screamed. The father ran to get the phone. Their daughter lay in a pool of blood and liquor at the base of the steps. After dropping the bottle, the girl had tumbled down the stairs. Shattered glass broke her fall.

She lay like she did on the sofa every week, a mannequin with empty eyes. A divorce was now inevitable. But she didn't seem to care. From her lips escaped the words of a lullaby. To her surprise, she wasn't crying. The girl smiled. Perhaps her husband wasn't necessary, anyways.

Paramedics rushed in, lifting her glass pierced form. On the way to the hospital, she closed her eyes while swaying on the stretcher. Not even for a moment did anyone fear she was no longer alive. Like a broken record, her lips had not missed a beat.

And down will come baby, cradle and all.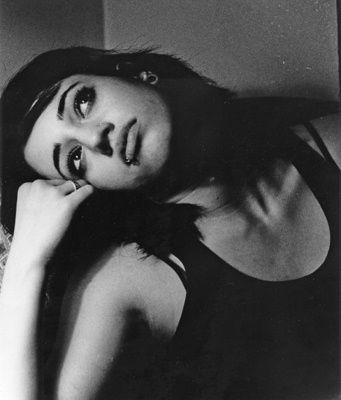 © Jessica B., Bethesda, MD