The dream of a loser
August 7, 2019
Guess what!? Finally, my story has been published in teenink magazine! I read it once, twice and I am assured that it has been really published. I can cleary see the name Black Finch under the title, so I wrote this story- I just can not believe it.
I insert the magazine in my pocket and regardless of the size, it fits flawlessy without even being the corners wrapped, I am surprised a litte bit as well. I head towards the school and begin to prance to show my classmates that my story has been published. Especially, I want to show it to Mary, she is going to be impressed.
The road stretches as I walk, it is never ending. I muse from when it has been this long from my home to school. Man my legs are aching, no, I am wrong, probably it is my heart.I can not just walk anymore...
There is no one in the classroom, it is monday and they are supposed to be in the classroom. Suddenly, my eyes fall on her, 'Hey!, Mary give a look to this months's magazine,' I pull it out of my pocket in a coerced manner.
'Anything special, Black,' only she calls me by my family name.
'You know, I am becoming popular, just give a look at page thirteen.' I hand it to her.
'Oh sure...but it is blank,' she mumbles.
'Must be kidding, this is the v-very page where my story has been p-published!' I stutter a little bit out of anger.She grins wonderfully but it looks venomous today, ' I know sometimes you lie to me, I really love the way you lie...' she laughs.
' I am not listening to Rihanna and I am not lying! Gimme back the magazine!' To what I am seeing is indesribable and the pain and torment breaks me into pieces. ' It is not supposed to be be blank!'
Then everyone in the classroom cries out, 'liar! Oh no, the loser, the loser!'
'Do not just call me the loser!' I shout and discover myself lying in bed, wet soaked. I rub my eyes and learn that I am awake. So, it was really the dream of a loser.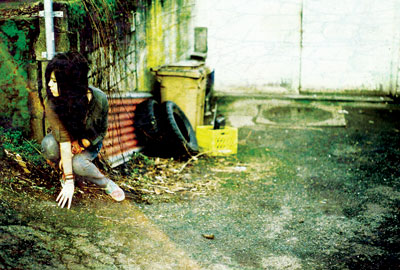 © Hailey J., Lake Oswego, OR