Firey Fana
May 11, 2019
Here's the thing- you can only act like you don't care about the lion in your backyard for so long. All Fana wanted was to be normal, like any other 15-year-old teenager to be beautiful, to have normal parents, to just love life. But unfortunately for her she was plus sized, years of being called "Fatty Fana" gave her a strong tolerance level for bullying. If that weren't enough, she has been and still is persecuted for having gay dads; kids have been accusing her of being gay herself, of hating athletics, and of loving food above all things. She's been called a Jew for being a ginger, boys have been doing the Heil Hitler salute to her and girls have tried to lock her in the bathroom and gas her.
All her dads want for her is for her to have a normal life. They went to the principal and school attendant but have been denied a meeting because of their love for one another. All Fana's hoped for is to be accepted, or for her existence is to be forgotten.
One day Jace Jefferson invited her to his pool party and told her to come in nothing but a robe and everyone was doing it. She arrived and they all counted down to take their robes off. 10, 9, 8, "I'm so cold, why isn't everyone else shivering? I'm I the only one who's..." Fana's thoughts were cut off by the count down. 3, 2, 1! The backyard roared in laughter embarrassing her. She covered her reveled body back up and ran off the property. She ran the whole way home crying, remembering everything that happened to her. She got home slammed the door, fell on the couch and cried. She balled until her dads interrupted her. They asked what happened and she told them everything. They were sad that she never had a normal life so they devised a plan to end her suffering. It would happen tomorrow at the basketball game. The next morning, she looked at herself in the mirror and began to cry while singing in her head. She then started crying and singing out loud.
"I just wish you could feel what you say…tell the mirror what you know she's heard before, I don't wanna be you anymore…was I made from a broken mold?"
She then stopped crying and just started as her reflection looked back at her. She then smiled and rushed outside to catch the bus. When she walked in school she looked just like the other girls if not better. "Curves", makeup, thin waste, black hair, and killer confidence. All the boys turned head and this time it was to look at instead of away from her. She told Jace and his friend to meet her in the science lab during the basketball game tonight and they happily jumped at the idea. Later that night in the science lab the boys walked in, but no Fana in sight. Jace smelled gas and yell for the boys to run but it was too late, before they could take another step the lab blew up killing the boys and caught the hallway on fire. The whole floor quick turned a blaze and dropped down through the ceiling alerting the students. They tried to get out the gym but just outside the doors were Fana's fathers locking them. In a hurry the headed for the doors to leave…but they were locked. They yelled for Fana to let them out but…
"Burn in their faggots! Burn with my other troubles make me normal!"
Her dads looked at one another and told her "if that's what our princess wants." Fana then danced to the roaring of the people inside. As she danced, she took her makeup and girdle off. The police and firefighters pulled up to see her waltzing with a hellish grin.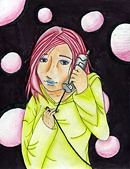 © Emily M., Milford, CT