Gone
April 23, 2009
I was hungry. I could actually feel my stomach mad at me. It just kept on growling. I couldn't even feed it. Mom told me that there was no more food. There hasn't been food for a while now. It isn't just us, but nobody had food. Not even Millie's family, she stopped breathing this morning. I don't know what they did with her. I kept on telling them to save her and give her more air, but they just stood there all pale in the face. Millie is my best friend. We met each other in kindergarten. Now we are in fourth grade, well at least I am since Millie is gone.

About a month ago it stopped raining. The river that my dad took me to fish in dried up, we couldn't grow any crops, and people and animals started dying. They say it's because of a drought. That means it isn't going to rain for a long time and that I might die soon. When I take a bath I can see my ribs, sometimes I count them. One time I counted ten, but the time before, I counted eight. I think I might be growing.
I don't like having no food. I get sick a lot now, my stomach hurts non-stop, and when we do get food it isn't enough to make me full. We're supposed to be grateful for what we have, but I'm not too sure we have anything to be grateful for. I went down to the river today to look at all of the dried up rocks. Millie taught me how to skip rocks across the water. I went with my little brother though because Millie's gone. He's my best friend now.
The baby stopped breathing last night. Mom hasn't stopped crying. I think that she might leave me next. I helped Dad bury her by the river. I put the coolest rock over her grave. Dad told me that everybody dies. That some just die sooner than others. I told him that I didn't want to die and that I wanted to live forever or at least until I was twenty. He laughed at me, but I think that I can make it until forever. That is, if the drought ever ends.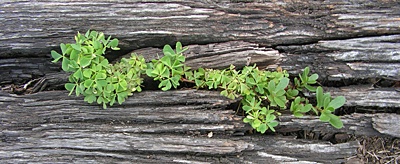 © Chris S., Monaca, PA