Not A Perfect Princess
April 22, 2009
"Well, well, if it isn't Miss Perfect Princess," I heard a voice say behind me. I sighed, making it as dramatic as I could, of course. It was her. Again. Would she ever learn to just leave me alone? I rolled my emerald green eyes, hearing my companions snicker. Making my tone as neutral as I possibly could, I gazed up into her face and said, "Oh, hello, Jana. Perfect Princess? Whatever do you mean?"
Jana Mae really wasn't that ugly. She had long, slim arms. Her body was small and lean. She had red hair, but not the kind of bright fire-truck red. It was more an auburn. She did wear glasses, and behind the thick rims were plain brown eyes. She wasn't anything very special, but she could be attractive. If she tried.
Myself at age 16 was completely different from Jana. I was tall, and tanned, with a shapely figure that showed up even when I wore my brother's big over-sized t-shirts. I had long, blondish brown hair, that was always sleek and glossy. Everyone I knew agreed that I was the prettiest girl in town. I never lacked a crowd of people around me, mostly of the male gender. I was in my junior year of high school and I had already dated two football team captains, a basketball player, three of the leading baseball players, numerous other football players, and even a hockey goalie- all in that year. At the time, on that day on the beach when I saw Jana Mae, I was going out with the main soccer forward of our high school- a senior. He (Justin) spoke up then, saying, "Come on, Jana. You know that Amber isn't royal. Just close to it." He smiled up at her innocently, while she glared back. I chimed in with, "Let's not fight, okay? Now, Jana, did you want to tell me something? Because usually non-cheerleaders have to make an appointment. Are you my three o' clock?" I smirked, always loving to have the upper hand. I guessed that she wouldn't want to say anything more, so I slipped my shades back down to cover my eyes, and settled back on my towel which lay in the sand. I felt superior and radiant lying there in my tiny polka-dot bikini, with Justin at my side and several other friends not far away. But right when I thought for sure she would leave us, she spoke up again, her words harsh and cutting.
"I see right through you, Amber. You think you're so special because you first went to prom at age 12 and haven't failed to have a date since then. You know that you're gorgeous- I won't deny it, you are good looking. But you're also paper-thin, Amber. And I'm not talking about weight. You don't have any purpose in life besides being loved and adored. And it makes me sick. What about when you get older, and your so-called friends get tired of being your little puppets? And you're not always going to be pretty, you know. Everyone gets wrinkles. Yes, Amber, I can see right through you. You're one of those girls who loses their virginity at 13, and is the center of attention all through high school. But then when you hit your 40's and the crow's feet start to come, you'll end up spending millions of dollars on plastic surgery and getting divorced. It's so superficial. Is that what your really want from life, Amber?"
I was stunned. Shocked. Hurt. Because, I just realized, she was right. And I couldn't do anything about it.
I didn't want to be shallow and superficial.
"Can you help me?" I asked her, quietly. It seemed like the rest of the world was fading away from me.
Then her scowl changed into a smile.
"Yes."
And I smiled also.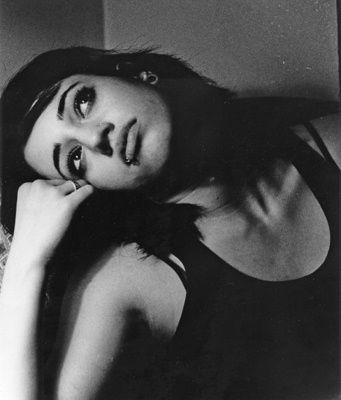 © Jessica B., Bethesda, MD