Moving On
April 22, 2009
"Where would you be if you didn't spend your entire life in the clouds?" His words bit down, drawing blood. He drew back and lunged again.
"You're always thinking of something else, dreaming of something else. You're never around! You are constantly slacking, I don't even know how you got to where you are now! Probably by leeching off people like me, who get drawn in, and used. But you're through with me." He reared back, hair rising on him like on an angry cat, and he stalked away. She followed him to their bedroom; he was packing, clothes flying. She sat on the armchair, sinking into the plush pillow, watching with sad eyes as he ripped through their apartment, collecting his things fiercely. He wrenched his toothpaste away, her toothbrush fell to the floor. He grabbed his watch, her clock rolled off the end table and broke. Ever precise, he combed the 2-bedroom apartment, checking ever nook and cranny for his things. He grabbed his cologne, accidently pressing down. The familiar scent of crisp vanilla shot through the air. She locked her fingers together, and pulled anxiously. He wasn't coming back.
He crammed his hat on his head, collected his things—two suitcases, his laptop, his microwave. He didn't even look at her, curled up on the armchair. He took his things and left, slamming the door behind him. A framed picture above the door fell. She tiptoed over, picked up the frame. Through broken glass, their faces looked out at her. His smirk, his blue eyes grabbed at her heart. Her wild hair, her limp features. She threw the picture away, and analyzed the situation. She didn't love him, no. But all the same, her restless eyes darted around the room. Her pet goldfish bubbled in the corner breaking the silence. She turned on the radio and closed the drapes. The weather was hot, and sweat prickled the back of her neck. She put her hair up and laid down on their, no, her bed. And let the music fill the silence until the morning.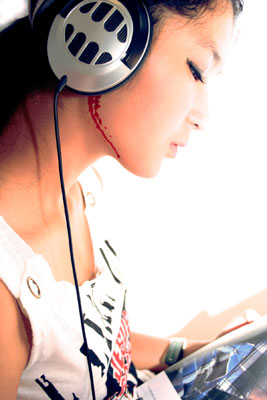 © Jiani L., Toronto, ON, Canada