Crafting...
April 10, 2018
My fingers often remain splintered; sore from crafting. Yet, I always continue; never resting until the piece of jewelry is created. This is my job. Very often, my legs would sit against hardened ground. I wear cloths carved from the skins of mammoths and saber-tooth tigers. The browned, wooly fur and the soft, orange fur grant me warmth from the cold. My sun-tanned hands often embed in frost from the weather; turning a dangerous red. Thee jewelry I craft contain material of animal teeth, ambers, and other materials.
A certain jewelry I've crafted, it is made of red ambers. They are painted as if by the flames coming from sticks; where we roast, animals hunted. And this; this is jewelry crafted of stones; each shape marked with a sharp, wolf tooth. This, and other jewelry types, resemble war, hunting. Mainly, my hands are tools; yet I also use others. With stone crafted "hammers", I pound each material into place. I can also torch some fire into a flat piece of metal; melting the materials in order to craft the jewelry. Since the fire is too hot, I carefully remove the material from the metal; only slightly burning my fingers in the process. I only light fires during times when the snow doesn't heavily fall against the cave. If the snow does fall heavily, I practice my work inside the cave.
Even at night, my eyes have to focus on both my craft AND the dangers approaching. Often, I can hear the chilling sound of wolves howling against the frost. Rival tribes also come during this time; their weapons slicing silently without warning. I must also protect my crafts; for they could break off or become stolen during fights. Inside the caves, I also dip my hands into "paints" varying of different colors. At times, I paint scenes of men and women working, children laughing and playing. Other times, wars are depicted; blood spreading against the walls. I and my tribe must very often move across land to new places; while fighting off animals and rival tribes. My hands are painted with the colors of jewelry; as a sign of protection. My craft has blended itself into me; protecting me in bad times.
Not all other tribes are bad. Some are good; at times giving items to us in return for jewelry given to them. When a good tribe enters, the leaders of my tribe question them. I then go and hand them the jewelry I've handcrafted. The other tribe's leaders then accept; granting us new materials discovered OR cloths dyed in various colors. All the materials and cloths come from distance places; often traded through sea or land. My fingers often clasp on to whatever new cloth is presented; for it is something new with which I could create. Blankets to ward off the cold. Furred covering to be placed on feet to keep them warm. Weapons such as spears and swords. Everything I craft; depends on our survival. At night when I sleep, I can see my fingers moving and working to craft jewelry; my body caressed by the various jewelry colors…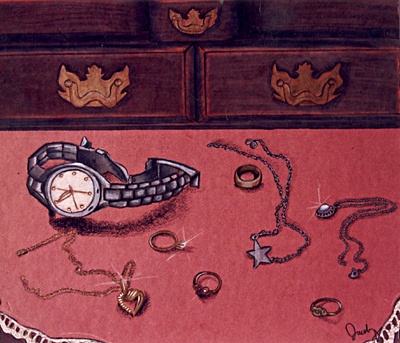 © Jacob S., Kannapolis, NC