The Fallen
March 31, 2017
It's the revolutionary war 1776, 9:00 in the morning. "Wait!? You're a patriot? How could you dad! I'm a loyalist!" "Get out of here!" Dad says. " ok I will!' Paul leaves the house because he gets kicked out and Paul goes to his neighbor's house to stay there for the night. When Paul arrived he immediately went to sleep to get his rest for his next day and to be nice and rested to go recruit himself to maybe fight in the war

Today was the day that Paul was going to recruit himself. Paul decided he would go get recruited late in the day so he could get his rest towards the end of the day. That day all Paul did was eat and sleep until he had to get up and get himself recruited. When he went up to sign up/recruit himself he went up there brave and confident that he was gonna get recruited and signed up for the army.
Paul made his final decision and decided he wanted to fight in the war and when he went to get recruited to the army he never thought of going back since he had nothing to lose. When Paul had to train and train for the army. Paul does not know that he was going to go into the revolutionary war days later. Paul was finally told that he was going to the revolutionary war in a day or two. Paul is thinking am I'm going to die or not but he remained calm. Today Paul will go into the revolutionary war and he will. Paul's dad joined the opposite army to also fight in war and his dad also trained and trained a lot to be ready for the war because they want to win and stay alive. Paul was    indeed thinking about how his dad is right now because even though they have their differences they still worry about each other and how both of them are doing and what they are doing at this point in time.
Today is the day before Paul and his dad go to the revolutionary war. Today Paul is going to get all of his rest that he needs to be ready to fight in the revolutionary war but on the other hand Paul's dad was training and training that day to be ready to fight tomorrow. Paul's dad practiced his aim while Paul practiced his aim a day or two ago so he could have 1 day of rest to be ready for ready for the war in crossing the bridge and fighting the other side. And to defend themselves.
Finally they go to war. Paul starts fighting and so does his dad Paul was crossing the bridge and Paul's dad was trying to cross the bridge. Paul starts firing at the enemies and so does his dad Paul has been fighting for a solid hour now and not much has really happened until Paul and his dad went face to face in the war and Paul saw the look in his dad's eyes, and his dad saw the look in Paul's eyes they both looked at  eachtother in surprise and suddenly Paul gets shot in the chest, his dad is asking if Paul is ok and Paul says no and Paul's dad is starting to cry because his son is dying right infringement of him and finally Paul dies and his dad continue the fight and eventually Paul's dad comes out of it alive and he decides to not fight in war anymore because of that tragic incident.

Five years down the line Paul's dad is no long fighting in the war because if what happened and he cried and cried because of his son and knowing that he is no longer alive and breathing. Paul's dad regrets everything even being on the opposite side and not staying with Paul and living with him and having a fine life that wasn't very difficult.Finally Paul's dad moves on in life but still everyday think's of Paul. Years pass and the war is close to over but not yet. This was the story of Paul and Paul's dad and how one family in the revolutionary war and what happened to them.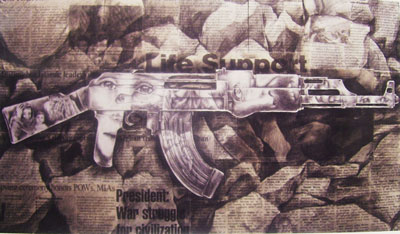 © Claire V., Lubbock, TX