He's Finally Home
October 19, 2008
Friday, October the third needed to be over, thought Jade Shelton. She put her head on her desk and thought over the day-to-be. After school, she was going to walk home with her best friend, Amber Dennis. Her mom was going to be there, tell them good-bye, and head off for a night out. Amber and Jade were going to eat, sleep, and watch movies until she heard her mom come in at probably around one a.m. They would then go to sleep and wake up in the morning to go to the airport and pick up her older brother who was finally coming home.

But unless school didn't end soon, Jade was going to go crazy. Mrs. Anderson, her English teacher was standing up talking about their next writing assignment. They were supposed to come up with some heroic action story by the end of the weekend and write up a rough draft. If they didn't, they got detention. Oh, that was nothing compared to the usual. Usually they would have to have their final draft in by the Wednesday after with no further adieu.

Jade felt a tap on the shoulder and finally, she looked up. Mrs. Anderson was standing beside Jade's desk, with her arms folded. "Miss Shelton, are you sleeping in my class?"

She rubbed her eyes and replied, "No."

"Did you hear what I asked you then, Miss Shelton? If you weren't sleeping, then you surely heard it, Miss Shelton."

If she heard her last name one more time- "No."

A few laughs from the class as Mrs. Anderson said, "See me at my desk before you leave, Miss Shelton." And then, thank Goodness, the bell rang before Jade could even think of what to say.

Jade got out of her desk, grabbed her backpack and met Mrs. Anderson at the front of the class. She was sitting at her desk, as promised, looking at Jade as if she was a lab rat, waiting to be tested. "I heard your brother is coming home, how happy you must be. Tell him I said hello and please, Miss Shelton, pay more attention in class. You are edging on a C. I know your mother, and she would not be too happy if you got a C in English."

That was more than true. Jade's mother used to be an English teacher, but after her dad died, and Jade's dad left, she resided to be a substitute. She always had lectured Jade and her brother, Jimmy, on how getting an education was so important in life. They believed it, but sometimes; Jade wished she could be like some kids in her class and not care what her grades were or how often she studied.

She told Mrs. Anderson that she would try and walked out of the classroom. Amber was waiting outside the door. Jade knew she would be listening in to make sure Jade wasn't in too much trouble. "I thought you were going to be like, suspended or something." See?

"She might be rude, mean, and uncaring, but no, she wouldn't suspend me. She knows my mom and loves my brother. Why would she do that?" Jade answered.

They walked home, almost silent except for the few giggles and questions or a comment about a driver passing by. Finally, they reached her house. It wasn't big, at all, it was just; expensive. The building was divided, making it a duplex, but her mother owned the whole building. Jade had mostly taken over the right one, calling it; Kingdom Jade. It held everything she owned and she placed herself in the master bedroom after her brother moved out, going to boot camp.

Jimmy was always Jade's role-model. And pretty much, the whole towns'. He smiled a lot and was very polite. He had thick black hair, which he grew out when Jade was little, but after he joined JROTC in junior high, he shaved it off. His skin complexion was as light as their mother's, but Jade had darker skin color like her father. All of them had the same chocolate brown eyes.

As they walked into the Kingdom Jade, or half of her house, Jade looked around. She smiled as she looked around and saw all of her pictures on the walls. In the living area, her mother put a door to connect both of the duplexes together, making it more of a home. Jade's mom always said when they first moved in that she would rent the house out to somebody. After a few months, she quit trying and told Jimmy he could finally move into the townhouse master bedroom. Within the next day, all of his things were moved out of Jade's room.

She put her things down on the couch and went into the other duplex. Jade's mom was on the phone in the kitchen, talking very quietly. "Hi Mom." Jade said which made her mom jump.

Her mom said something to the other line that Jade couldn't hear and then said a little louder, "Jade's here, so I'll talk to you later."

"Was that Jimmy? Why wouldn't you let me talk to him? Is he already on his way? How long does it take for people to get from San Diego to here?" Jade's mind flooded with more questions but kept most of them quiet.

"Well, I think I'm going to get ready to go soon. Is Amber here? Oh there she is; I couldn't see her hiding behind that plant." She nervously laughed and finally said, "I'm just going to get ready now." And left for her room.

"That was weird. Think she's going on a date or something?" Amber said.

Jade glared at her, "No, she would've just told us. She would've been excited, you would think. Right? I mean, she hasn't gone on a date since… like, forever."

Amber sighed as she changed the subject to her favorite; food. "What do you all have to eat around here?" And began to raid the fridge.

Jade sighed as she thought for a second or two and then went over to the fridge and helped Amber find something out. They finally decided to just wait and see if Jade's mom would allow them to order pizza at Domino's.

They plopped down on the couch and turned on the TV when Jade's mom came in, dressed as if she were to go back to work, and smiled as if she had just sold a house for twice than it was worth and said, "Girls, see you later tonight. Don't burn the house down, okay?"

Amber smiled at the joke. "Ms. Shelton? Can we order pizza?" Normally, a guest would not ask such a question but Amber came over so regularly that they almost considered her family.

"Sure. I'll call on my way out. Pepperoni?" They both nodded and gave them a twenty. She told them to give her the change, if there was any, in the morning. Then, she left.

Jade smiled and turned to Amber, "What are we going to do now?"

"Movie?" They both smiled and then she said, "I'll race you up the stairs!" And took off before Jade could answer or even nod. Jade won the race and they entered Jade's room. It was still girly pink, even though Jade began to despise the color. She had posters of Green Day, All-American Rejects and pictures of her family and friends. It was full of furniture. She had a desk, an armoire, a TV stand with movies and game stations, her bunk bed that had a futon built into the bottom bunk, and her huge radio that she got for her thirteenth birthday.

Jade landed in the floor and looked through all her movies. She had all the old Batmans, Edward Scissorhands, all three Bournes, and about a ton other movies. She took out Batman, and held it up to show Amber. Amber nodded approvingly and Jade put it in her Sony DVD player.

She skipped through the previews and hit play. Before you could tell who was Batman, they heard a doorbell. Jade jumped up, but soon after Amber was already through the bedroom door and opening the front. The pizza man handed Amber the pizza as Jade got the money from the counter. She gave him the twenty and just said keep the change, even though the pizza only cost about ten dollars.

They got back to the movie and watched it until Jade said, "I wish Jimmy was here. He loved this one. The joker's his favorite villain."

Amber stayed quiet. "Do you think your mom was talking to Jimmy? What if something happened and he couldn't come home? Maybe that's why your mom was acting so strange." She stopped and thought then went on, "But she was like anxious, so why would she be so excited?"

After a moment Jade said, "Who knows? Because I sure don't."

Soon after Batman ended, she put in the next one. At about eight o'clock, Jade went to refill drinks when she saw a car light pass through the driveway and the garage opened. Jade heard a voice echo through the walls, "JADE!"

Her heart skipped. She turned to Amber, who ran to the kitchen when she heard the voice, "He's finally home." The garage door opened and Jade turned only to embrace in a big bear hug.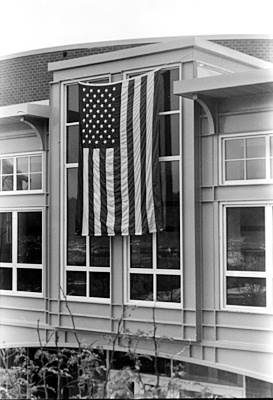 © Chuck K., Marblehead, NY