Salvation: Rejection and Rain
October 23, 2012
He remembers feeling nothing when he died. Frankly, he did not even remember his death. In life, he lived for the moment and believed nothing that not physically proven as factual. The young man did wrong and right interchangeably. Since neither good nor evil could claim him in life, he was sought after in death.
Helplessly, his soul floated pitifully in realms unknown. God, being merciful, sent an angelic servant to guide him to heaven if he so wished. Satan, being greedy, sent a demonic angel to obtain the soul for eternal agony. Upon arrival, both angels presented their final destinations. The humble angel informed the soul it was not too late to choose right and spend infinity in heaven serving God in peace.
"Beauty and tranquility await you for faithfulness," the silver spirit softly said, "The choice is entirely yours."
"S***," the demon hissed, "A paradise where you can't self-indulge? Sounds like a living hell. I'm offering you a life like before. Everything you want and more! I'm offering you freedom; the freedom to serve only yourself."
Its eyes burned with a hungry passion. The man's soul trembled.


"God wants to save you," the silver angel whispered, "He loves all his creation. Do not heed demonic trepidation. Come, live in true paradise."
The soul weighted his options and longed only to satisfy his departed flesh, he turned away from God's angel to the Devil's spawn. The decrepit spirit shrieked with laughter and immediately seized the soul with searing talons. Shortly, the laughter and screams faded away to the silent falling of sliver tears.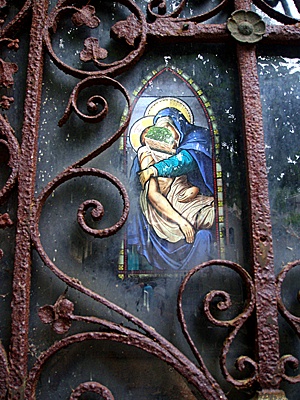 © Rebecca Y., Los Angeles, CA