The Story of Rick
May 25, 2012
I see that kid standing on that corner of the recess blacktop. Nobody wants to be that kid. That kid who never talks and has no friends. Neither did I, so I didn't. Almost everyone at my school knows I could be that kid with no friends and never talks. I chose not to be that kid by trying to fit in and by being a baller. A baller is someone who is amazing at basketball.

If you went to my school in Cedarburg, Wisconsin, you would see posers, football players, those people who think they're funny, nerds, populars, the wannabes, kids who act popular but are really not, the soccer geeks, and the basketball players and I, Rick Daniels. For me, it wasn't like the basketball players wanted me to hang with them. I would know if the basketball players wanted to hang out with me. If they did, I would be hanging out with them 24/7 and sitting with them for lunch every day. I wasn't like them, basketball-wise. They all played AU basketball, CBC, or A team for Webster. I played for the Webster B team. I didn't care too much. I mean, I got more playing time. I knew inside though that I could be the great basketball player that I always dreamed to be.
It soon struck 12 o'clock and I walked outside to the basketball hoop. The teams were the Select players vs. the rest of the people there, but it mostly consisted of the B team for Webster. You can guess who's going to win, can't you? You would actually be surprised though. The games were pretty intense. By now, most of the B team had trust in me to pass and score. One of the other players on the B team was Allen, who was my backup point guard. He was nice to me and he never complained, and he supported me most of the time. He still wasn't a real friend of mine, since he never invited me to do stuff or anything. The game started and I was dribbling the ball vs. Nate, one of the best defenders in our grade. Nate could defend well but was kind of a jerk to me sometimes. I loved getting past him, so I did my famous cross-over and made a sick pass to Allen, who drained a three. By the end of the game, which they won 10 to 3, our whole team turned on us because they just liked winning and wanted to fit in with the crowd. After they left, it was just Allen, Jim, and me. I didn't score because I passed every time, no joke. That's what I was known for, and that held me back from being great. Another thing I hated about recess basketball was when I took a shot, I felt like everyone was watching me. If I missed, they automatically thought I stunk and my teammates got mad.

On the way in to school the next day, I saw the nobodies. They were by themselves wearing worn out clothes. For example, most of them wore brown coats and plain white shirts. Not because they couldn't afford nice clothes, they just did not care because no one liked them. For me, I just said hi, to show some respect toward them. I could be one of them, but basketball was my way out of being a nobody. Basketball gave me something to do so I didn't get bored to death. It also gave me a few friends.

The next day was tryouts for the 8th grade Webster basketball team. The whole first day I worked so hard playing defense and trying to actually show the coaches my ability. Then, the second day, I worked even harder. The coach was about to announce the teams. I was confident about making the team. Then the coach talked to me, which I knew would not be good. He said to give my dribbling and defense skills some time. I was like, "What do you mean?" I was mad, very mad, even Allen made the team. I looked at the coach and said "please," but he said, "No". I then left the gym and walked home. I guess I quit Webster basketball. I went straight into my room, passed my mom, and listened to Kid Cudi. I then went to sleep mad, which is hard to do. I wish I could explain what it feels like to sleep mad but it's too hard to explain.
The next day I sat alone at lunch at a random table avoiding everyone at lunch. No one cared and no one sat next to me. That just inspired me more to do something great.
Chapter Two

"Tiger, nice to have you back." yelled coach AJ. Tiger was the nickname he called me last season. The reason was he thought I played good defense. The place I was at was rec. basketball. My team won the championship last year with a buzzer beater and we knew we could repeat. Rec. basketball was all I had after I quit Webster in 8th grade. Everyone told me to not do rec. but it was fun. At practice every Tuesday and Thursday we did shooting and defense, which helped improve my game. When the games began, I averaged 20 points a game and was one of the best players in the league, which isn't saying too much. Soon enough, the season ended and we finished second. Better than last place, at least.

After 8th grade came high school, the four toughest years of my life. Basketball-wise I didn't even make the team, not once, and that made me mad. School-wise I did great but that's not the point. Since I didn't make any teams, I would go to my local basketball court to practice. Just because I didn't make my high school team doesn't mean I can't play college ball. There I met my future.
Chapter 3
Barry was his name; he was six foot eight, 200 pounds and played ball for Ohio State. Barry almost made the pros but his career was cut short because of knee injuries. The first time I met him was two days after I didn't make the varsity team as a junior. He saw me drain a few shots, then dribble between my legs, and then he just started to stare at me and I stared at him. I then sunk three pointers. "Barry, that's my name," he said.
I then replied, "Tiger or Rick."
"You have some good game."
"Thanks," I said.
"Do you play varsity?"
"No," I whispered.
"Street baller?"
"I guess."
"What college are you planning to go to?"
"Stanford." He seemed to shake his head in shame.
"I am here for just the weekend, and Connecticut would love to have you. I will talk to them for you."
"Great," I said, "Because I still have not yet committed to Stanford, I just got a scholarship." Stanford was the college I was getting ready to commit to.

When I got home from basketball, I told my parents about Barry, the guy I had the chat with. They said until I get a letter I should stay with Stanford. To be honest, I don't think they even believed me. I told them that I was only a junior and I have another year left of high school. They just said that they didn't believe I should switch schools because of Barry.

The next day at school everyone was talking about who made varsity, and a few months' later college scouts were sending scholarships. A bunch of people got scholarships, like Allen. His was to Green Bay, which was weird because I didn't make varsity and he did. Corey got one from Kentucky, Jim got one from North Carolina, and Nate got one from Marquette. Every ball player got a scholarship to play basketball. The high school team was so good it won two straight state titles. No one asked me because no one cared. When I told them they laughed and said,"you can't play college if you didn't play high school.' Nobody was going to care until I made the team, except for me.

The next week I got a letter from Connecticut, a full ride scholarship, probably from my good grades. I then got a letter from Barry saying I will not make the team the first year, but I would make the practice squad if I wanted. I accepted it of course. The practice squad seemed like a good way to sneak on the team.
Chapter 4
On the first day of summer, I was on my way to Connecticut from Wisconsin to join the practice squad. On the practice squad we did not get uniforms, we got t- shirts, which I didn't mind. As a practice squad member we just went to practice, helped pass the ball during warm ups and sometimes scrimmage. The good thing was we got excellent experience and not just any chump could be on the practice squad, you had to have some skill. We also got to room with the players, so if they needed practice we could do it with them, and we were kind of like a part of the team. Lucky for me I was roomed with Jason Aligrante, another key to my success.

Every day after school we would play. He was a good player and helped me out. Then, on the weekend, I would train with Barry. We would go to Barry's house outside of campus. Barry was a trainer there and sometimes he got a few other guys to train with us. After the first two years, Barry got me to be third string point guard because he talked to the coach about it. Throughout that year I only played two minutes but the practice was good for me. The next year I was second string because the first string graduated from college. I did pretty well; Barry told me some NBA squads were interested in my playing ability. That got me excited because it was my senior year.
Chapter 5
Rick Daniels was not called in the 2023 NBA draft. Luckily, Barry got me into a summer circuit for the Toronto Raptors. There were only seven games and I was unlikely to get to the NBA. In the games Barry pushed me hard; he said I did one thing or another thing wrong. Sometimes it made me angry about how he graded me on games. Yes, he did grade me, like if I made a mistake he took some points off. No NBA team wanted me after the games, but I did get an offer from the Los Angeles Defenders in the development league. There I was the best on the team and was one of the best in the league. I was so good I got an offer from an NBA team. I was so happy.

The offer was from the Cleveland Cavaliers, and they needed a backup point guard for the playoffs and I was the one. The reason they needed one was the other one got injured and they needed a quick backup. Everyone in the D-League wanted it and I got it. I felt like I finally won something. The night I arrived in Cleveland was a game night, and I was benched because I needed a physical. A few teammates came over and shook my hand. Some seemed pretty nice. The team was good because they had Jamine Tomkins as the starting point guard and AJ Red, as center. It was the first game in the playoffs and they were the first seed. We won easily because we were so good. The next game I went in for only three minutes and scored no points. No one knew me but that would soon be changed as the playoffs went on.
Chapter 6
Our team was good enough to make it to the championship that year. There, we played the Lakers. Throughout the series I played okay. They won the first few games, and we won the next few games. It was a very close series and went to game seven. It was huge for me to make it there, and in the final seconds we were winning by one point. Then, the Lakers had a fast break while I was playing. I was running down the court alongside the Laker player. As we both leaped into the air, I fouled the other player. I couldn't believe it. The clock struck zero and he made both free throws. Cleveland hated me, what a shame. I thought I was actually doing something with my life and then this happens, call me bad luck Bryan. For the next five months Cleveland hated me so much, the fans sent me death threats. Everyone thought my basketball career was over. Just when I thought I was going to be kicked off the team, Jamine Tomkins, the best player, was traded. The coach told me they needed a starter and I was the one. Coach even forgave me for messing up. Now that's the perfect coach. Throughout the year I practiced with Barry everyday and I was ready for the season to begin.

I was bombarded with boos when I entered the court for the first game. That was no surprise. I was actually prepared for that. When I left the game it was to cheers because that night I had 40 points and I won the game for our team. That was pretty much how the season went and we won the championship. Cleveland loved me. I then donated five million dollars to charity and started my own. Then the next year, we went undefeated and were the first team to ever do that. Some people thought it was impossible but we proved them wrong. By the end of that year everyone loved me everywhere. We won the championship that year, and I was MVP
Chapter 7
As I enter my third season I advise all unpopular kids to never pay attention to all the popular kids. They think they are all that and cool but they're not. If you are a popular kid include everyone in everything you do. I am the only NBA man from Cedarburg and no one thought I would. Kids, do what you set out to do, shake off the haters and live a good life.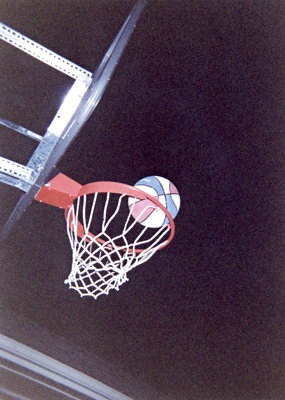 © Laura P., Highland Village, TX