Frozen and Melting
February 8, 2012
Her face is a torment of emotion; a whirlwind of feeling that whips across her numb features. Her forehead is a forest of wrinkles - stress and mourn hidden deep beneath the trees. Roots so strong they ripple from left to right. Her brows quiver under the weight of the trees to almost touch her icy blue eyes, the clear lake in the midst of fog. She is the ice princess with high, risen cheeks and a pointed chin with the all might "I am higher than you" effect. yet she's not. The ice princess is just ice. Her nose is a ripe strawberry without the seeds. Like tomatoes shining under the sun her cheeks release warmth into the chilled night.
The ice princess is only ice; freezing under the full moon but melting inside. She steps forward and I notice her lack of shoes... her lack of gloves... her lack of anything substantial. Her dress is ripped from stretched out thorns deserting forlorn bushes. Another step and her silky blonde hair reflects the milky moon.
She believes me not here. She trusts me as her best friend to stay home and sleep. She thinks I will stay away and let her slip away into death - slip away into escape! The thick snow underfoot masks my identity. My cloak, the surrounding nature that hugs to my waist, holding me in the shadows.
The creek carries the slush along its back. A train to nowhere with no stopping place that just rushes by. She comes with no sign of travel; no ticket and no luggage. Yet as I look closer, she does have a ticket. She does have luggage. Her torrent of feelings and forest of lines: her ticket to drop off and never come back. Her luggage: her hope for a new beginning.
For the slightest of a moment i doubt what I want to do. Maybe she is not selfish for leaving. Maybe it is I to blame; forcing her to stay in a world in which she hates. She steps forward as if an imaginary line captures her in spot; waiting for her turn to board the train. Her eyes are fuddled like a cloudy river, gazing without really seeing the truth. Am I the same too?
She is third in line, second. With really no choice but my own I break from the comforting arms of the forest into the barren clearing. The snow crunches underfoot and echoes but does not reach her closed off ears. She does not listen. She does not see. She has blocked out the world. She has blocked out me.
Her breathing labors, and then lapses into rasps of haggard breath. Her frozen feet with fringes of blue slide through the snow instead of walking above. With little warning; she slips in.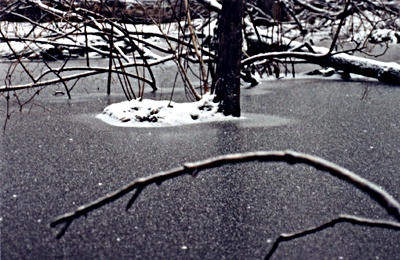 © Anton J., Philadelphia, PA