The Shouting of a Command
MAG
The shouting of a command,
The thumping of helicopterblades in the wind.
Sounds of guns start to cover the land,
In a fewminutes this battle will end.

As screams of young men start tomultiply,
Smoke starts to fill the sky.
I am wounded, will I die?
WhileI pray and ask God why,
My eyes fill and I start to cry.

As a boy Idreamed of the fight,
But now I hope just to get through the night.
I heara shout that says we've won.
The thumping of blades have now begun.

AsI'm carried away I notice the flag
That so gallantly sways red, white andblue
And I say to America, we did it for you.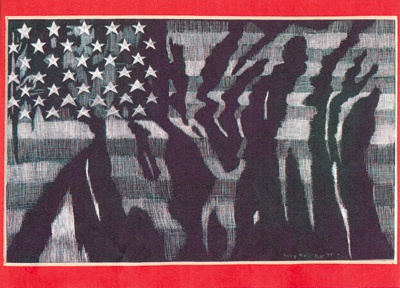 © Haley M., Ellinwood, KS