The Ambiguous Sequel
June 30, 2010
Bookstores all seemed the same to him now. After being in a different one every other day, the magic was soon lost in the repetitive routine. He'd been traveling around this part of the country with his book tour, making appearances, signing thousands of books each day, meeting even more readers. They lined up behind the velvet ropes, waiting for hours before he even had arrived in the city, let alone the store. The vast majority of them had a copy of the book in hand, but the rest chose to buy them from the table he signed them at, because the stores were almost always rid of their copies within the first few days of receiving them. Shipments came in every week, and waiting lists covered those shipments till the end of the year. It was another classic case of a nation-wide phenomenon.
Because he was young his work still had some truths to it, but because of his flare he could draw readers in and convince them that it was all a fantasy. A fantasy that they all wished for after their eyes fell upon the last period of the story. It captivated all who read it, in some way or another. As the staff had guessed, the most of victims to the magic were those who were close to his age, and a higher percentage were female (but not by much). There was an intriguing element to his product, one that made it difficult to categorize with any other book. It wasn't quite a romance novel, but the women and girls all reacted and obsessed as if it was one. Based on the males' perspective, it could have been an action or adventure story, but there wasn't enough in it to qualify. The characters seemed so real, but the storyline seemed like something one could only dream of. No one could tell what it was, but it didn't matter to anyone. Finally, they had found something to quench all of their thirsts, and they were satisfied.
There was nothing he liked more than the start of a book signing, except maybe the end. To be honest, he hated the signings now. The people were nothing special, and only one or two that caught his attention came along every few weeks. Things were slowing down, and he could only count the days before he could go home and stay in one place for more than a day. He could imagine it now… his own bed, all the time in the world… The bell rang as the door opened and someone walked inside, shaking him back to the present. Opening his eyes, he had to blink a few times to adjust to the light. The line was gone, and the sun was shining brightly through the window to his left. He started to stare into the streets when he heard footsteps stopping abruptly in front of his table. Knowing it was another person wanting to get a book signed, he inhaled deeply and sighed rather loudly as he turned to face forward.
If anyone had listened close enough, they would have heard his glass heart shatter into a million pieces and rush up into his face, shortly followed by an exodus of blood swarming every inch of his skin, evident through the tainted crimson that shadowed his face and hands, seeing as they were the only skin visible. He breathed in sharply, the shards of glass lodged in his throat causing searing agony, forcing him to gulp down the remainder of his water before he could speak. Luckily for him, she was looking to the side, and didn't seem to have noticed. When her head turned, she walked forward calmly and placed her copy on the table. No words were spoken between the two of them. There was nothing he could think of to say to her, nothing that could fill the void that had already been established from her entrance. So he signed the book, creating a personalized message for her. He felt like he knew her from somewhere, but couldn't remember from where. As he slid the book to her, she opened the front cover and skimmed the drying ink. Back and forth her eyes moved, her gaze covering every letter of every word and resting on his signature, her lids widening, the lower half flooding slightly. He looked up just in time to see it happen before she turned her head and wiped her eyes dry. Closing the book and slipping it into her bag, She turned and walked away, flicking her hair back over her shoulder.
She stopped, however, in front of the doorway and stood still for a moment, her hand rested on the frame, ready to push it open. He watched her stand in that spot. He watched her lower her hand and turn around. He watched her walk back towards him and lean over the table, hovering her lips next to his ear. He listened to her whisper to him, felt her breath on his neck as she pulled back. He saw her eyes looking deeply and longingly into his own, and he tasted her lips as she kissed him. There was an immediate spark between them, and he looked for more even when she had pulled away, leaving his extended lips with nothing but a stain from her lipstick. He reached out and snatched her wrist before she could walk away from him again. There was a slight fear in her eyes as he stood up and pulled her closer, smiling at her in such a way she couldn't help but blush and smile back, following him to his limousine while his staff packed up the table and other propaganda and loaded it all into the trunk. The doors closed, and the windows rolled up, with the internal temperature of the occupied back seat steadily rising.
The harvest moon glowed a vibrant orange as it sat high in the midnight sky. The moonlight shone through the translucent curtains as a light, warm breeze blew them up in the air. He lay on his back, and she on her side, resting her head on his bare chest with her ear directly above his heart. The taste of him lingered, and she savored every bit of it. A new breeze rolled through the window and his left arm pulsed as she licked her red lips.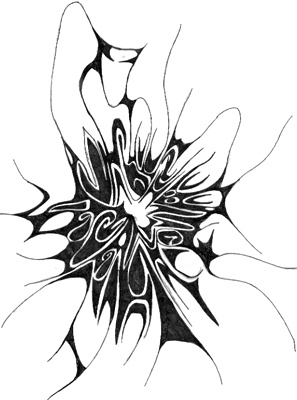 © Ansley F., Tifton, GA