Untitled so far
June 13, 2010
Dear: Diary

So, Uncle John and I were fighting again. This time it was just because I was home late, just because it was around thirty minutes past curfew doesn't mean there has to be drama. Hello I'm almost eighteen years old; ten O'clock is not that late.
Anyway I kind of just wanted to talk about… about… mom. Sometimes I still can't believe she's gone but I think life is just doing its job so maybe, just maybe, some day I might believe there is a reason. Today I walked by the coffee we'd always go to when one of us was feeling sad, we'd by a coffee and sit outside even if it was raining. We would talk about the strangest stuff that was happening or could happen or maybe even impossible; by the end of our coffee and chat we'd be laughing our heads off feeling great and so happy, uplifted in ways that were unexplainable. When I looked in the shops window it was like I was looking at a movie of the past, I could picture mom and me bickering over what to get, the employees would always laugh at us, and then finally we would pick something and we'd walk out the front door and sit at the same table, underneath its umbrella. Seeing all that in front of my eyes almost made me cry but you know me I will do anything to avoid crying, it's like my weakness.
Then later on I walked by the street where it happened, the accident. My heart felt like it was going to collapse; my breathing was going through the roof, I had to blink so fast just to stop myself from crying. Memories and feelings and my pain came flooding back in an anguishing way. I felt like my soul was being ripped out of my body once again, I could not bear it. I burst out in tears, clutching my chest hoping the pain would stop but not matter how much I wished and tried it was like I was going through it again. I could hear my mom's voice in my ears as she yelled at me, she was angry, furious. I had skipped school again, I just had to get away; I was the nerd, the brainy ache, I hopped that if I found something outside of school then maybe I would have more than education and my music. We never saw it coming, we were too busy arguing and yelling at each other; that our change came so sudden, frightening in a moment. A big truck came out of nowhere; our vehicles were going to collide. In a spur of the moment I grabbed the steering wheel out of my mother's hands directing our car out of the way just in time; she yelled with so much joy ''We are alive!'', letting go of the steering wheel she wrapped her arms around me in a hug but then came the final blow. Our car rammed into a pile of barrels that were filled with toxins, chemicals that we not healthy for human bodies. The toxins piled in through the open windows, filling our car all the way to the begging of the windows. I grabbed my mom's hand and looked into her eyes; the special sparkle that was always in her eyes was drifting away. She whispered to me that it would be all right, I couldn't even believe her; her words showed no emotion, she was just fading and all I could do was hold her hand and say that it was okay. She left me after that, I was alone, all alone. My head started hurting as cried my heart out; I became very woozy, my vision blurry and my head hurt even more, and then I let the surrounding darkness take over. My mind, my body and my soul were gone all that was left was my pain and tears.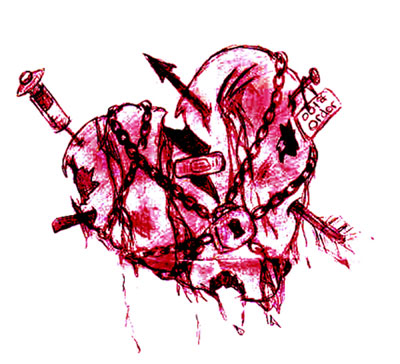 © Asia B., Hudson, MA