I can't be her fix
June 6, 2010
They used to say she was a precious as a wildflower blooming beneath the summer sun that has survived the harsh winter. They used to say she was as delicate as a crystal ballerina that could shatter at any moment. They used to say she was as beautiful as the winter sunrise reflecting off the frozen pond.

The sting of a chilled needle slides beneath a thin layer of skin and into her waiting veins; veins that are bruised and torn from so much abuse. The sensation of anticipation for a high that is unimaginable to anyone who hasn't experienced it. A place that she travels to where there is no pain; no pain when her stepfather comes to visit her in the dead of night. No suffering when her grandfather decides to go a couple of extra rounds with her, fists against the once-delicate face. Another world altogether only achieved by injecting that clear sweet substance, accepting that this is her life now.

Now they say that there is no soul left in her once brilliant blue eyes. They say that her face is hollow. That she has lost all life that shone so brightly from within. They say she has become a walking corpse, devoid of all emotions. They say that her mind has withered, that the great things predicted of her will never be achieved.

It was never supposed to come to this. He said he loved her. He said just to try it once, to do it for him. He said it would take the pain away. The pain of loss, of suffering, that was caused because of the accident. He said she wouldn't have to blame herself anymore. What he didn't say was that she wouldn't be able to stop. He never said that she wouldn't be the same after. That she would crave it every waking, breathing moment she didn't have it.

When the trips are good, they're great. You're untouchable, high above anything, anyone that could hurt you. It's like walking on cloud nine, the white puffy marshmallow pillows floating all around you, engulfing you in their bitter sweetness. But when the trips are bad, they're horrible. It's like you've finally made your journey to hell and there's no escape. There's no escaping the unbearable agony that's playing games inside your own mind, you're your own worst enemy leading yourself down the wrong path, and there's no escape until you come down from your high. But why stop when both trips, the good and the bad, numb you body. Like stepping into hot water, your cold skin against the rescuing heat that kills all senses, blocks out the unbearable.
She says they are wrong. She says it's not the heroin that's made her this way, but that they made her this way. She says the heroin was her savior. That it rescued her from not only them but also herself. She says that her beauty faded not because of the abuse from the drugs but from the abuse of everyone around her. She says that it was the absence of love in her life. The absence of her mother's hands running through her hair, the absence of her little sister's laugh in the morning, the absence of her baby brother's first words. She says she is not addicted that she could live without the white cool substance that travels through her veins. But then again why would she want to live without it?
I say that I was once in love. In love with a girl that brought the sunshine into every room with her. In love with a girl whose smile could light up the night sky. In love with a girl who was more delicate then a whisper. I was in love before the accident, before the abuse, before the drugs. I was in love after the accident, after the abuse but not after the drugs. I was once in love, but then why does she say she was never loved. I was once a guardian angel that always tried to be there, but I couldn't save her from herself. I tried to protect her from the pain, the suffering, the abuse, the loss, but I couldn't protect her from her own demons fighting to get out. I was there from the beginning, when she was the new awkward girl at school, I shared the sand box with her. I was there when she broke her arm, her knight in shining armor. I was there when her first boyfriend stood her up, a shoulder to cry on. But I will not be there till the end. I will not be the one to support her addiction. I will not watch her destroy her body, her soul, her everything, like a trapped tiger who will chew off her own paw to escape. I cannot be there till the end. I cannot love her anymore but I do.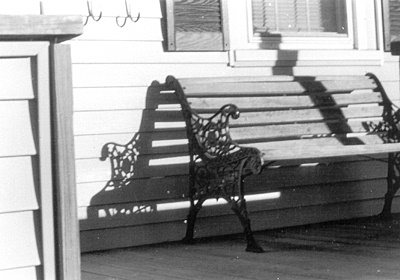 © Lauren O., Weymouth, MA