The Aspen Trees
September 29, 2017

The sun's ray peeped brightly through the tall Aspen trees. The crisp air, causing a bitter chill throughout my hands and toes. Silence, surrounding as we stop and lay in the white, fluffy snow; looking up at the clear skies and the hundreds of trees around us. This place truly is a winter wonderland.

Thin air surrounds me as I begin the second day of skiing in Beaver Creek, Colorado. Day one of skiing had gone pretty well, a few falls occasionally, but an evening in the hot tub soothes any minor aches. I was ready for a new day. The day was full of adventures. We began with talking to our new best friend, Lucas who helped us get our skis everyday. Lucas was a nice, young man and brought a smile to my face. As we begin, Saylor and I got lost, and ended up on a double black. The run started off pretty well until I ate it and couldn't get my ski back on. Through frustration, trying for many minutes, and seeing Saylor taking videos of me, I gave up. There was not a person in sight, leaving me with one option; booty sliding down the slope. Finally, I made it down, though I couldn't feel my butt, but continued laughing it off. Our hot chocolate stop was pretty magical. The warm, creamy chocolate hitting my cold tongue was exactly what I needed. Day 2 was like wahoo and I was enjoying every little moment of it.

Closing time approaches on the second day of our trip as I prepare myself for the final run of the the day. Fresh off the ski lift, I coast toward the new of trail, Saylor's mom had decided to take us on.. After a moment of thought, I confidently decided to conquer my fear and take on a black, narrow tree run. The run was so narrow I could view the beginning of the run from just one look, no head turn necessary. Fear was my initial reaction.
A blast of adrenaline charges throughout my body as I experience the beginning moguls and a level of stress fills my body. My body's weight shifts back and forth as I try to avoid hitting a tree; my main goal.. The trail continued to curve and challenge me, but I didn't have an option but to get down this slope. Suddenly, through the numbness in my toes, I stop and just look around. Silence surrounded. No one in sight but Saylor and her mom, as we just stop and lay in this beautiful scenery. Through the falls, moguls, and trees I just saw God, and the amazing view of hundreds of trees around me. My fears were gone and this slope began to amaze me. After conquering it, I did it again and again the next days. It was my favorite slope, called Thresher Glade.
Instantly this picture portrays to me the amazing nature God has placed around us. The tall trees, that make us look like a tiny drop, and the piles of white powder surrounding. The picture makes me smile and reminds me how quickly fear can change to joy, and how it's all about your attitude. It recalls the way Thresher Glade helped us advance and up our level of skiings. More than ever it brings back the memory of skiing with my best friend, as we laugh, cry, and conquer the mountain. This specific moment shows our friendship perfect, as we look at each other just hoping not to fall back, and reminding ourselves we can do this. Through the good and bad I'm glad I have a bestfriend like Saylor to hold me and to help me not fall back when times are hard. Thankful for the forever memories this picture holds within it.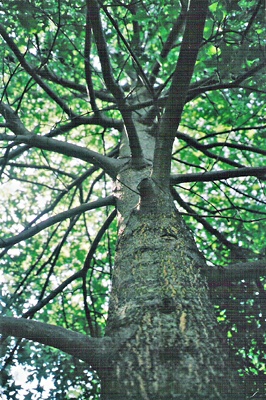 © Bhuvaneswari R., Sleepy Hollow, NY