Scout Camp Here I Come!
August 15, 2017
One highlight of my summer was my Scouting Trip. My Scoutmaster planned for my Scout troop to complete a strenuous five-mile hike from Hernandez Trailhead in Sierra National Forest all the way up to Lillian Lakes, though I needed to make some special adaptations for this trip, because I have Muscular Dystrophy.
For those unfamiliar with Muscular Dystrophy, it is a genetic disorder that prevents my muscles from rebuilding. In short, I can't walk long distances, run, or lift anything heavy. I especially can't hike FIVE miles. So, as a solution to that problem, my father and I decided to each ride on a mule up to Lillian Lakes.
The mule trip up to the campground was full to the brim with fun, and luckily I made it to the planned destination unhurt and without a scratch on my body. And what's more, my impeccable hair stayed handsome and charming as always!
As I arrived at the campsite, I exchanged stories with my fellow Scouts about our adventures. Just like mine, their hike was uneventful. We all set up our tents, cookware, and of course, the all-important hammocks. As my inquisitive mind was surveying the camp, I noticed that no one was making dinner. So I immediately looked at the meal plan to see what we were to eat. With delight buzzing through my scalp, I yelled so that it could be heard through the whole campground, "BURRIIITOOOS FOR DINNER!" The only reply I received back was a handful of groans. "Well, I'll show them," I told myself.
Later that night, I was watching the priceless expressions on my friends' faces. "Not even Taco Bell makes burritos this good," said one of the Scouters.
"Thank you," I said excepting the comment graciously, "but I sure wouldn't want to be the one sleeping in Kabien's tent,"  I said pointing to a twelve-year-old boy who was reaching for his fifth burrito.
"Oh man!" exclaimed his best friend Lukas.
After completing over five merit badges, swimming in the lake, having great naps on the hammock, and having an overall great time, it was sadly time to say our last farewells to the beautiful camp site. As I was slowly disposing of a loose candy wrapper from my pocket into the fire pit--in compliance with the Boy Scout Outdoor Code--I heard a faint clomping noise in the distant forest. The pack mule train had come to take me back home…
"Hey Walker! We are less than fifteen minutes away from the cars! We are almost home!" my dad exclaimed, turning to me as he was sitting on his equestrian mount so I could hear him.
"The adventure is coming to a conclusion," I thought to myself. Then a sudden change of events happened. My mule started picking up lots of speed. With lots of thoughts running through my mind, I quickly decided to pull back on the reins. My mule did not slow down. "Oh boy!" I yelled aloud. I was losing control of my mule, Blue; he obviously did not want to be controlled. In a moment I was bucked off. My feet flew very smoothly out of the stirrups. I landed on the hard dirt path with a harsh THUMP! While I was focusing on keeping my throbbing back and neck pain in check, Blue took to the forest, letting nothing get in his way.
"Walker! Are you okay?" my father questioned with panic in his voice.
"Not really," I said as a jolt of pain was sent shooting down my spine.
"Walker, do you want me to carry you to the cars?" I nodded my head too tired and hurt to answer. As my father lifted me on to his back I fell asleep immediately.
When I awoke I could feel the soft comfort of the leather seats in my dad's truck. I was seeing the highway rush behind me. "How are you feeling Walker? Are you alright?" my father questioned.
"I'm okay I guess," I replied.
"Great! The Scout troop is about to grab some pizza. I'm guessing you want to come?" he asked.
"That sounds like a fun ending to an exciting and eventful week!" I told him. "This is one week I will never forget!" I told myself.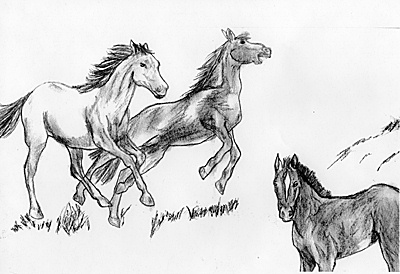 © Ali A., Eau Claire, WI