Football Life
May 18, 2017
 For the first pick of the 2017 NFL draft the Cleveland Browns select… Devonte Brown!!! It was a early june day we been working out all day. These 2 a days where killing us. Coach loved to make us lift hard in the morning and go home to eat to come back to the field to throw it up. He made us do gassers all day till we wouldn't even think of being tired. He was a good dude and helped me develop as a person growing up. My life was tough, growing up was rough.
I grew up in a 3 bedroom house my grandmother's house to be exact. Living with 3 people in a 10 by 10 room. Never got warm water to shower or much food for breakfast. But I looked forward to school. I knew I was going to get to play football after. School was okay I enjoyed learning. But football is the main reason I stayed. Getting through the day was easy when that's all you have on your mind.
Practice was the best lots of people hated it especially at my school I played at Broward County High The Goats. We were back to back state champs the team ran behind me, ya boy, devonte. You see grinding is my thing it never stops. I gotta stay consistent if I want to get my mom out this place. Growing up here you don't see much but bad things so I used football as my safe haven. I seen people shot at people robbed, but I didn't let that get me distracted.
Everyday after practice I had to walk home the long way to avoid getting beat up for my shoes and back pack. It was so aggravating I hated that I had to do that. Everyday this gang stays by the bridge waiting for kids with the same shoe size to jump them and take them. I didn't mind especially it helped me get a little bit of my soreness out of my legs. I get home to see my grandma and everybody waiting for me to eat. There was my cousin shawn and my brother johnny, my aunt D, and my grandma betty, my mom wasn't home yet neither was my sister.
After eating I do my 100 sit ups and 100 push ups before showering and getting ready for bed. Life isn't that hard in the bottoms if you make the best of it and know and tell yourself that you will make it one day. It was the end of my junior year I was finishing super strong. I already had big offers from some major schools.
I knew where I wanted to go already. And I had it in my mind since a young boy and when they offered me it was a go at first site. I decided to commit to the University of Florida. The best team around for me. I flew through my senior year finishing even better than my junior year. Heading to one of the best colleges nationwide. Playing for UF was like nothing ever the fans were great and the food was even better. People were nice and the teachers were cool.
My last year of college i received my degree and met a great young women who later became my fiance. She was beautiful nothing like i had ever seen before and she smart and strong and independent just like my mother. I always wanted someone like my mom seen her go through a lot. It was all I waited for my whole life to help my mom and the draft approaching I was projected number 1 but every analysis. I wanted it more than anyone ever did. So I entered the draft. The combine was something crazy to be in the same building as all those big names and still shine and stick out was pretty cool. I exceed coaches expectation and headed into the night of the draft strong minded. Waiting at that table was making me sick. I was with my future wife, my mother, my brother, and my grandma. I watched as the commissioner walked to the stage. I waited quietly and nervous on inside but never showing it. As he said the browns are on the clock. My palms started sweating the where calling me all week. Telling me I was a fit for them. They needed my i hoped but it's the big times the don't need many.
The phone was at the middle of the table. It rang… I picked it up on the phone was head coach Hue Jackson. He said Devonte how you doing hows your family? I replied "we are doing okay here tbh coach just a little nervous." he said well don't be. With a long pause…. We are taking you first round hang up the phone and we will have you here first flight tmr morning enjoy your night son.
At this moment any issue all the hard work and all the grinds the late nights the two a days the people who doubted didn't matter.  I had zero problems in the world I looked at my mom and said we made it.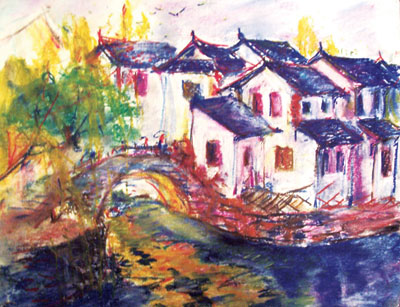 © Xiao H., Naperville, IL