Fireworks
August 6, 2013
I see the light burning its way through the chilly night air, and gasp at the vividness of it all. The world around it is all black and blue and muted greens. Sleeping, waiting colours, their slumber interrupted by the Fireworks.
The boy beside me says they're no good, cheap. But to me they're beautiful.
I've never seen anything like this before. It's like bombs injected with colour, going of in the sky. They are bright, frazzled, dizzy colours, a worlds worth of frustrated energy taken out on the sky. They dive and explode, ascending for only a moment before crashing to the earth once more, only to release at the last moment. As I stand there gazing, I begin to shiver as the temperature drops to minus numbers, totally oblivious as everyone else leaves, too cold to resist their warm houses anymore.
I stay as long as possible until I'm sure there's no more to fire off.
I turn around, gathering my coat from where it lies behind me. Tucking it under my arm I take the first step towards the house when I hear the whistling sound of one last light.
It's red, the only one of that colour all night. It flies higher and higher into the sky until I wonder if it will stop. Then suddenly it explodes, right there in front of my eyes, hundreds of feet up. It springs out, throwing out it's tangled limbs as far as it can reach, pushing farther and farther into the night. It looks as if it robbed the light and beauty of everything around it, sucking it greedily towards itself.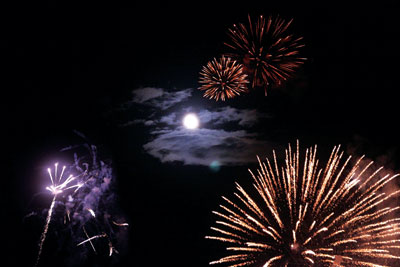 © Meena K., Groton, MA